PASADENA – Summer 2016 marked another successful campaign for the Land and Culture Organization (LCO)/Organisation Terre et Culture (OTC). After three summer campaigns of volunteers, and four years of historical archaeologists, local workers and artisans, LCO/OTC celebrated the completion and consecration of the its fifth historical restoration project 16th century Sourp Stepanos Nakhavegah (St. Stephen the Protomartyr) church in the village of Shikahogh. Shikahogh is located in the southern Syunik region, adjacent to the Shikahogh Forest Reserve 20 miles south of Kapan. Being near the Armenian-Artsakh border, the Azeris shelled Shikahogh during the Karabagh conflict. Now, they are hoping to develop ecotourism in the Shikahogh State Reserve area.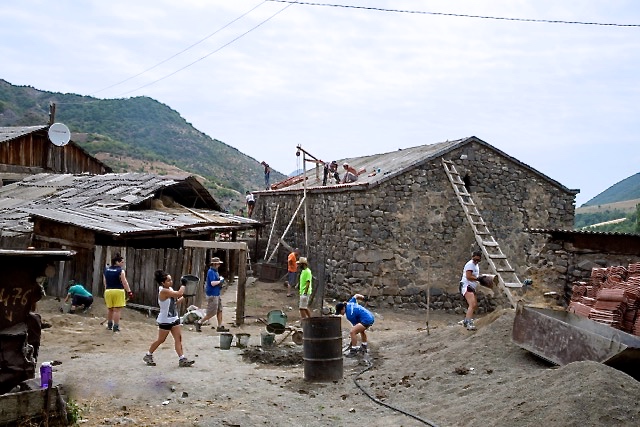 Sourp Stepanos was blessed on August 6th by Holy Etchmiadzin Bishop Hovannes Hakopyan and clergy of the Syunik Diocese. Present at the consecration ceremonies were Kegham Kevonian President of UIOTC (Union of Land and Culture International), Haig and Hilda Manjikian and Nazaret Kevonian of LCO-USA, project architect Stepan Nalbandian of LCO/OTC Armenia "Yergeer Yev Meshagiut", along with LCO/OTC volunteers and members. Over two hundred members of the Shikahogh community, neighboring villagers, and mayors from surrounding villages and attended the ceremonies. It was an emotional moment for all present following the culmination of years of hard work by volunteers and local craftsmen. Some community elders remember being baptized at Sourp Stepanos.
Throughout the project's duration, 60 volunteers from the diaspora lived in Shikahogh and worked on Sourp Stepanos. Volunteers participated in every aspect of the project from archaeologic digs, clearing the exterior and interior of the church, fixing the roof, rebuilding the altar and more. Since 1989, LCO/OTC has worked on 20 projects including renovation of community centers, schools, construction of solar dryers, and historical church restoration in Armenia and Artsakh.
In addition to the completion of Sourp Stepanos, LCO/OTC began work on a new project in southern Armenia. This year's campaign brought 40 dedicated volunteers from the United States, France, Canada, Mexico, Russia, Armenia, and Artsakh to spend three-weeks in the Syunik region, rebuilding the 17th century historical Sourp Hovannes (St. John) church in Armenia's southern most point of Meghri. The Meghri restoration project will take four to five years to complete. During the campaign, workdays of physical labor participating in the renovation of this Armenian church is just one part of the LCO/OTC experience. Volunteers live in a very modest rural home and spend non-working hours bonding with village residents, while enjoying local activities and their surroundings. In addition to experiencing village life, the volunteers go on excursions of Armenian historical sites. To learn more about LCO or join in our summer volunteers program, you may reach us at www.lcousa.org.