YEREVAN (RFE/RL) — Twenty-five Armenian army sergeants have flown to the United States to take part in a training course which is as part of U.S. efforts to help Armenia increase the number of its non-commissioned officers serving on a contractual basis.
The U.S. assistance reflects deepening U.S.-Armenian military ties focused on Armenia's participation in NATO-led peacekeeping operations and defense reforms.
According to the Armenian Defense Ministry, the two-week course will mark the third and final phase of a training program conducted by the Kansas National Guard.
"The first two stages of the program were held in Armenia," the ministry said on Thursday in a statement that announced the departure of the soldiers.
"The servicemen included in the symbolic platoon called Pyunik (Phoenix) will also familiarize themselves with training programs for sergeants of the U.S. Armed Forces," added the statement.
The Armenian military has been recruiting more contract sergeants as part of defense reforms supported by NATO. The U.S. has been particularly active in helping it train non-commissioned officers in line with Western military standards.
About 50 newly recruited Armenian sergeants underwent a weeklong U.S. training course near Yerevan in February 2014. It was part of their four-month training.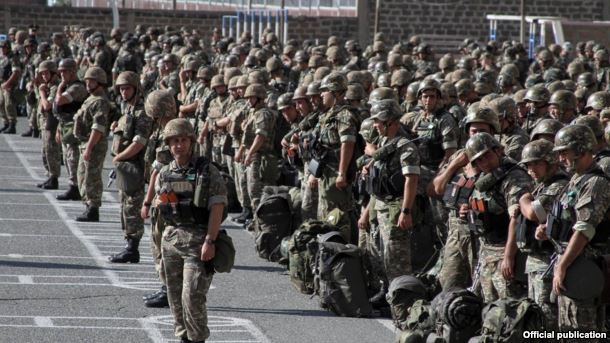 The 25 sergeants flew to Kansas on board a U.S. military transport plane less than a month after other U.S. military instructors began the first training course in Armenia for Armenian army sappers that are due to participate multinational peacekeeping operations in the near future.
They were specifically trained to detect and defuse improvised explosive devices (IEDs). The Defense Ministry in Yerevan said on July 14 that the U.S. military will also supply them with relevant demining equipment
Armenian demining experts have until now dealt with only conventional landmines.
A total of about 130 Armenian soldiers are currently serving in Afghanistan, Kosovo as well as Lebanon. Addressing a UN peacekeeping summit in Washington last September, President Serzh Sarkisian expressed readiness to expand Armenia's participation in such missions with specialized medical and demining units.
Earlier in 2015, U.S. instructors trained the first group of 12 teaching personnel for the Armenian army's newly established paramedic school.
The Armenian soldiers deployed abroad are part of the Armenian army's special peacekeeping brigade that has received considerable financial and technical assistance from the U.S. and other NATO member states.
NATO assigned a higher degree of combat readiness and interoperability to the brigade after monitoring a four-day exercise held by it in Armenia in September 2015. "This [NATO Combat Readiness Evaluation Level-2] certification advances the Peacekeeping Brigade's capability to support NATO peacekeeping missions at the next level," the U.S. Embassy in Yerevan said at the time.
"The Peacekeeping Brigade has improved vastly," Lieutenant Colonel Richard Fisher of the Kansas National Guard said in separate comments.
Sarkisian reaffirmed the Armenian government's commitment to closer cooperation with Washington when he congratulated U.S. President Barack Obama on his 55th birthday anniversary on Thursday. "We stand ready to make every effort to register new achievements [in bilateral relations,]" he wrote to Obama.