NEW YORK — Since the four-day war in Nagorno-Karabakh in April, AGBU worldwide fundraising efforts, individual donors and a special allocation by the AGBU Central Board of Directors have raised more than $325,000 for the people of Armenia, Nagorno-Karabakh and their armed forces. After large scale military attacks by Azerbaijan and the continuing security threats it poses to Armenia and Nagorno-Karabakh, there is a dire need for a unified and reinforced commitment by Armenians worldwide. AGBU has reaffirmed its unwavering support to the people and armed forces of Armenia and Nagorno-Karabakh and brought urgent support to the families of fallen soldiers, injured soldiers and innocent civilians.
On May 13, the AGBU Armenia team visited severely injured soldiers and volunteer fighters at the Central Clinical Military Hospital and the Rehabilitation Center of the Armenian Red Cross Society in Yerevan. The team also visited the homes of discharged soldiers and families of fallen soldiers in the regions of Shirak and Ararat to deliver $1,000 to each family.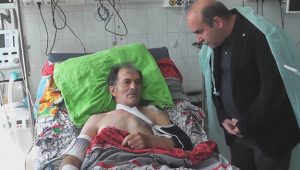 On May 21 and 22, AGBU Armenia visited Nagorno-Karabakh, including the Military Hospital in Stepanakert and the homes of fallen soldiers in the regions of Martakert, Martuni and Hadrout, providing families in need with $1,000 of financial assistance. AGBU Armenia Deputy Director Hovig Eordekian met with Arayik Harutunyan, Prime Minister of Nagorno-Karabakh, and introduced AGBU's campaign directions, which include the purchase of medical equipment and supplies, financial assistance to the families of fallen and injured soldiers and support to displaced families.
"After returning to Yerevan, we will immediately start a very important phase of our campaign, which entails purchasing medical equipment and assisting our military. The list of equipment was identified by the Defense Ministries and prioritized by the medical divisions of the military. It will include emergency and intensive care equipment as well as hemostatic agents and portable x-rays. We believe that this equipment will help save the lives of soldiers on the frontline," said Eordekian.
Since the beginning of April, AGBU Armenia has provided support to more than 70 displaced Armenians, including 30 children, by hosting them at the Nairi Hotel in Stepanakert, where AGBU Nagorno-Karabakh program coordinator Sassoun Baghdasaryan has been overseeing this project and delivering financial assistance to 21 families of injured and fallen soldiers.
To ensure its resources are correctly allocated, AGBU began coordinating its programs with Armenian governmental agencies as well as other organizations that have initiated fundraising campaigns. As a result of these efforts, AGBU Yerevan, Repat Armenia, Sahman and the Arar Foundation created a Coordination Group, a growing network that meets regularly to share experiences and recommendations.
AGBU calls on its worldwide members and friends to increase their efforts with full commitment and jointly support Nagorno-Karabakh.
To donate to the AGBU Humanitarian Emergency Relief Fund for Nagorno-Karabakh Armenians, please visit https://donate.agbu.org/pages/nkr-relief.