By Florence Avakian
ZOHRAB CENTER, NY — Dr. Kim Sirvart Theriault, Professor of Art History, Criticism and Theory at Dominican University, in River Forest, IL, presented an in-depth lecture on the art of the world famous artist Arshile Gorky, and its connections to his Armenian identity. The event was held on Thursday evening, March 10, at the Zohrab Center, NY, before more than a 100 attendees.
She was introduced by the Executive Director of the Zohrab Center, the Very Rev. Fr. Daniel Findikyan who called Gorky's Armenian connection" a model for genocide survival and Armenian success in a modern world." Theriault's 2009 book, Rethinking Arshile Gorky was published by the Pennsylvania University Press and was awarded a Society of the Preservation of American Modernists publication grant.
Using a power point demonstration, the speaker related that like all artists, Gorky was influenced by his background and experiences, but because of his life, "there are added components related to his use of memory in his work, and the influence of trauma on his life."
As an artist, Gorky "mimicked Western art in order to become part of it, and thus he is the single most important segway between the European Surrealists and American Abstract Expressionists. This was his way of negotiating his new world, and his move toward abstraction was the only way to reconcile the two."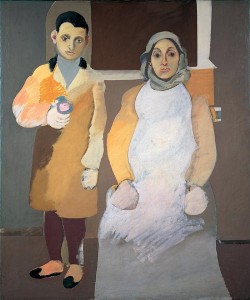 Painting Displayed at St. Vartan Armenian Cathedral
The scholar pointed out that when the Whitney Museum was going to remove from display for conservation, Gorky's seminal painting of The Artist and His Mother, it was lent out to the 2008 exhibition at the St. Vartan Armenian Cathedral during a celebration of art and music by major 20th and 21st century Armenian-American artists, held as part of the 40th anniversary celebration of the Cathedral's consecration. During the 24 hours it was on view at the Cathedral, it was under armed guard.
The Mother in the painting is known to all Armenians, she continued. "It is the face of mothers, sisters, aunts, grandmothers who like Gorky's mother, died in the Armenian Genocide. While the image is haunted by a tragic past, it alternately became a means for Gorky to forge his future in modernism. It also mirrors the Armenian relationship to the Genocide. What Gorky did, as a person and an artist, was to meld his background with his present."
The kinship that Armenian-Americans feel with this work, she noted, also represents their ethnic connection to artist Gorky, and his achievements in America as an immigrant, even though the artist did a great deal to separate himself from his background. Originally born Vosdanig Adoian, he changed his name to the Georgian "Arshile" and the Russian celebrated author "Gorky". Renaming can also be linked to rebirth, she commented, rebirth being a "prevalent aspect" of American art.
For Gorky, "the creative act of self-fashioning is part of an effort of re-humanization in the aftermath of the Genocide," said, adding that renaming represents one of the first steps in rebuilding one's life after displacement and trauma.
Memories of Armenia, Not "Vulgar" America
Though Gorky moved away from his two sisters in Watertown, MA, as well as the Armenian communities, he kept a "nostalgic relationship" with that past, and his homeland. His painting memories were all of Armenia, nothing of America which he thought was "vulgar." Living in New York, he was, in reality, living in Armenia.
Gorky's recreation of his mother in various paintings and studies can explain a child's dealing with a parent's death, acknowledging it on one level, but not accepting it on a deeper level. "Gorky seemed to be stuck in this in-between place emotionally, psychologically, and physically."
Gorky's friend, the artist Robert Jonas has explained, that "Gorky's Armenian past saturated his consciousness. You felt it all the time, as if he was never really here, as if his umbilical cord to his past was never broken. He has a passionate love for the past, a love for art of the past. And he had to break through and translate what he knew as an Armenian before he became Gorky and the germinating force behind the abstract expressionist movement." This served his pursuits in the 1930's when he mimicked other artists, such as Picasso, Cezanne, Matisse and Miro, among others, the scholar said.
Combinations of Space, Place, Time
Developing his abstraction in the 1940's, his well-known works were "combinations of space, place and time – pictures inspired by the American landscape that had triggered memories of his past life." The Garden in Sochi series was inspired by his childhood memory in his family's garden before fleeing the Genocide, but was created after he made several sketches of the American farm he stayed in one summer.
In the 1944 How My Mother's Embroidered Apron Unfolds In My Life is based on a memory when he was a young boy. "Gorky acts his memory through his art. The 1946 series of The Plow and the Song references "songs farmers used to sing in the old country while tilling the fields, and is understood to be based on the unique form of the Armenian plow."
Ethel Schwabacher has said that Gorky's art is evocative on four levels – "the senses, the psyche, the historic past, and the universal level of epic symbolism." In his works, time, space and place are unfixed, and somewhat imaginary and constructed.
"This is like the suspended time related to the Armenian Genocide," Theriault explained. "Without the crime being acknowledged, Armenians, regardless of how they move on with their lives, are kept in a state of suspension, and not just the survivors, but the subsequent generations are frozen in a state of perpetual surrealism. One cannot move on because without recognition of the death, or the Armenian Genocide by its perpetrators, it will continue."
This chain of experiences passes from one generation to the next. Because the Genocide is denied, it still continues to be an open wound