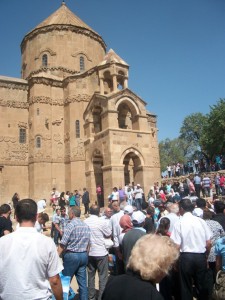 AKHTAMAR, LAKE VAN — Around 2,000 Armenians reportedly attended on Sunday a mass at the Holy Cross Church of Akhtamar Island on Lake Van in southeastern Turkey for the third time since its government-funded renovation in 2007.
The pilgrims were ferried to the tiny Akhtamar island on Lake Van, the site of the 10th century church of Surp Khach (Holy Cross)
Archbishop Aram Atessian, the acting spiritual leader of Turkey's small Armenian community, presided over the mass. The Devine Liturgy was offered by Archbishop Khajag Barsamian, Primate of the Diocese of Armenian Church of America (Eastern). During the mass, the faithful also prayed for those who lost their lives as a result of the ongoing developments in Syria and the devastating earthquake in Van. Only a few dozen faithful were able to watch the service inside the church, the rest following proceedings from outside, AFP said, citing the Anatolia news agency.
In addition, and following the Holy Liturgy, two children from Armenia were baptized at the Church, and Armenia's "Akunk" Folk Dance Ensemble performed outside the church.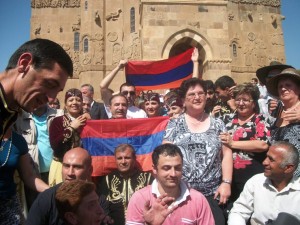 Built between 915 and 921, the Akhtamar church is one of the few surviving examples of the ancient Armenian civilization in what is now eastern Turkey. Hundreds of Armenian churches built there since the early Middle Ages were destroyed, ransacked or turned into mosques during and after the Armenian Genocide in 1915.
Turkish authorities repaired the church between 2005 and 2007, which then opened as a museum. Mass was celebrated there for the first time in 95 years in 2010. According to the Turkish tourism ministry, the church attracted nearly 30,000 visitors in 2010, and similar number in 2011.