YEREVAN (Armenpress) —  Immediately after the declaration of independence by Armenia in 1991, close and friendly relations were established between Armenia and Iran. Both Armenian and Iranian officials have always emphasized the high level of political relations between the two countries, while the sides see great potentials in economic sector that has not been fully utilized so far. After lifting international sanctions from Iran, broad prospects rise for Armenia, as Iran's neighbor and centuries-old friendly country, to engage in regional developments on the one hand, and further deepen Armenian-Iranian economic relations on the other hand. "Armenpress" briefs the latest developments in Armenian-Iranian relations.
New window in Armenian-Iranian relations
After lifting sanctions and barriers from the Islamic Republic of Iran, great opportunities rise for Armenia, and these new realities are the focus of attention of the Armenian side. "What are the odds for Armenia to become a priority transit route linking the Gulf ports with the Black Sea ports?" To answer these and other issues of bilateral relations, President of Armenia Serzh Sarkisian conveyed a consultation on February 19.
Interestingly, the series of consultations of the President with Ambassadors of Armenia to foreign countries aimed at activation of economic relations with partner states kicked off with the consultation with the Ambassador of Armenia to Iran.
Ambassador Extraordinary and Plenipotentiary of Armenia to Iran Artashes Tumanian, referring to the key importance of North-South corridor, stated its huge importance for the Iranian side as well. "The next issue refers to transport corridor. It is of key importance for us. When recently Minister of Transport of the Republic of Armenia Mr. Beglarian was on a working visit in the Islamic Republic of Iran at the invitation of his counterpart, it was officially declared in front of mass media representatives that Iran announces about its state policy of 4 corridors. One of them passes through the Republic of Armenia. It was an important announcement that also fits in global geopolitical projects", the Ambassador said.
A conference headlined "Republic of Armenia-Islamic Republic of Iran: 25 years of cooperation" held at Yerevan State University recently also referred to the past, present and future of Armenian-Iranian relations. Chair of Iranian Studies Department Vardan Voskanian recalled a statement made by Iranian President Rouhani that "Armenia, as the first state to adopt Christianity, and Iran, as an Islamic state, are unique neighbors, with exemplary relations which is an advantage for both sides".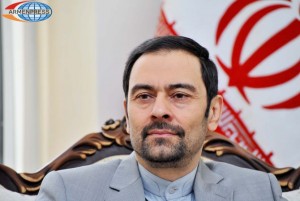 Seyyed Kazem Sajjad, the Ambassador extraordinary and plenipotentiary of the Islamic Republic of Iran (IRI) to the Republic of Armenia, who attended the conference, also spoke about the necessity to deepen Armenian-Iranian relations. He stated that there is no political problem in intergovernmental relations and there are no limitations to develop them. The Armenian community in Iran plays an important role in bilateral relations. In the words of the Ambassador, the Iranian authorities take measures for the preservation of Armenian heritage in Iran.
Iran is also the supporter of settling the Nagorno Karabakh conflict through negotiations. In an interview with "Armenpress" the Ambassador has stated, "We have always announced that the conflict must find a negotiated settlement. Iran has always supported dialogue". Seyyed Kazem Sajjad brings Iran's nuclear deal as an example, which proved that dialogue can solve many issues.
As refers to the economic sphere, according to Ambassador Sajjad, there are good prerequisites for the development of bilateral relations and Armenia's membership to the Eurasian Economic Union is another advantage.
Bilateral trade turnover and economic cooperation
Armenia-Iran trade turnover in 2015 was 276 million and 360.7 thousand USD, 5.8% of Armenia's total trade turnover. As for exports and imports, last year Armenia exported to Iran goods worth 78 million and 22.6 thousand USD, which is a decline of 6 million and 953.2 thousand against the previous year.
Iran exported to Armenia goods worth 182 million and 460.6 thousand USD produced in third countries and Iranian made products worth 198 million and 338.1 thousand USD.
Both the Armenian and Iranian sides believe that the bilateral trade turnover is not sufficient considering the existing potentials.
The construction of Iran-Armenia railroad has been subject for discussions for years. Some clarity may arise regarding the issue when an Iranian expert group arrives in Armenia in the near future to conduct on-site observation. The arrangement was made during the visit of Armenian Minister of Transport and Communications to Iran.
As refers to Iran's access to the EAEU market via Armenia, Iran calculates its possible profits in case the project comes to reality. At the start of the year two major delegations arrived in Armenia to familiarize themselves with the situation and to clarify the opportunities that can emerge in case of entering to the mentioned market through Armenia.
Iranian officials under Armenian roof
Mutual visits and cultural events are planned for the near future aimed at further deepening and diversifying Armenian-Iranian relations. According to the Ambassador, it is necessary to create opportunities in conformity with the Islamic culture in order to foster the tourist flow to Armenia. Armenia is a peaceful, beautiful and hospitable country where Iranians will visit with great pleasure.
Centuries-old cultural ties and current cooperation
Ambassador Seyyed Kazem Sajjad attaches great importance to the development of cultural ties between the countries as well. Ministry of Culture of Armenia and Iran's Cultural Heritage, Handicrafts and Tourism Organization cooperate in the works of including the Blue Mosque in Armenia in UNESCO's World Heritage List.
Armenian-Iranian cultural interactions date back to centuries ago. Head of Islamic Culture and Relations Organization Abouzar Ebrahimi brought interesting examples during the Yerevan conference, mentioning that numerous Iranian artists imitated Armenian artists at the beginning of the 20th century.
Referring to the Iranian-Armenian community, Ebrahimi stated that the 4-century history of Armenians in Iran has always served as the best example of co-existence in multinational Iran.
Ani Nazarian, Samson Hovhannisian