Bold Plans for the Future
By Florence Avakian
"We have an unrelenting commitment to our common heritage. So, too, are we united in our mission of service and in our vision of justice. And thus, the Armenian Bar Association (ArmenBar) is not your typical professional lawyers' and judges' organization," said Armen K. Hovannisian, newly elected chairman of ArmenBar at their 25th annual national meeting held in New York City recently.
"Our organization is a bridge between the legal profession and the needs and aspirations of the Armenian nation. Our desire is to bring the rule of law and the respect of rights to all our communities," he said proudly in a telephone conversation with this writer. "It is my blood line that defines, drives and motivates me, not merely my profession. We see and feel ourselves as Armenians who also are legal professionals," he repeated again with emphasis.
Born in Fresno, CA, Armen Hovannisian, now 51, moved with his family to Los Angeles at a young age, and graduated from UC Berkeley, and the UCLA Law School. He served as ArmenBar Chairman in the early 1990's, and has been a member of the ArmenBar Board since the inception of the organization. He and his wife Elizabeth (nee Aranosian), have two daughters and two sons.
Among his illustrious family members are his father, UCLA Professor Emeritus Richard Hovannisian, his mother Dr. Vartiter (nee Kotcholosian), and brother Raffi who was Armenia's first Foreign Minister, and founder of both Armenia's Heritage Party, and also the Armenian Bar Association 25 years ago.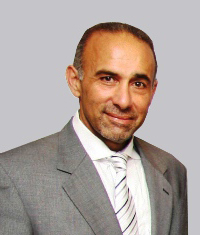 TIME FOR REFLECTION AND FORWARD-LOOKING MILESTONES
"We have a singular loyalty to our own, and to providing legal resources to our communities in the Spiurk, and also for the people in Armenia and Artzagh. In our 25-year journey, we have now come to the time for reflection and forward-looking milestones."
Hovannisian related that it took several generations for the Armenian community to heal, recover and reconstitute itself after the Genocide, revealing that his grandfathers and grandmothers worked for many years in the mills of Massachusetts, and in the fields of California's San Joaquin Valley. "That first generation, after suffering so much loss and trauma, kept it together by not often sharing its nightmarish past with their children, and making sure their lives of hope and promise would be restored in their new country."
Today Armenians in America "are no longer the 'tired, hungry, poor, huddled' masses. The public success stories back then were few because the focus was on rebuilding life itself. Now that it's been rebuilt, we are currently a dispersed, vibrant, confident, well-to-do people holding our heads high, and completely fluent in the ways of the world. For the future, we need to make it the success story of the Diasporan community"
The generation of "our parents and grandparents made progress and moved forward on an individual or micro level," he noted. "Now we need to do it on a group level, on a diasporan level, using every forum in the courts, arts, sciences, media, literature, film, dance, education, etc., in both the white and blue collar worlds, in order to embrace and exult in our Armenianness, and to show that we represent the best, both for our heritage and for America. The challenge now is how to express what we want," declared Hovannisian .
With half of the ArmenBar members located in California with its large Armenian population, the organization in its 25-year history has created mentorships, group and panel discussions, and receptions in California and many other states, most recently in New York, with judges and legal experts.. Besides its thriving student program, it has also done pro bono clinics, mostly for the newly arrived Armenian immigrants, informing them of their duties and responsibilities.
One of its strong points is the Armenian Bar Association's activism through its Armenian Rights Watch arm which flexes its muscle when the rights and entitlements of Armenians are compromised. . "We are the Diaspora's legal voice and legal representatives when our rights are violated which happens more often than one can imagine," he declared. This activism involves filing lawsuits, meeting with employers, and sending letters to schools urging the teaching of the Armenian Genocide. "We take action for teachers who have been restricted in teaching this issue with their students, such as the recent case of an Armenian-American teacher in Arizona who was terminated for mentioning the Armenian Genocide in his math class."
ARMENIAN BAR-ARMENIA RELATIONSHIP
In Armenia, with the republic beginning down the road to independence in 1991, and starting to "breathe on its own," the Armenian Bar Association began its relationship with the emerging independent country by sponsoring a legal exchange program with the country's Supreme Court and universities. Dozens of legal exchanges were started bringing their counterparts to the U.S. for study, with Armenia returning the favor. "We offered the opportunity. We didn't impose on our counterparts, but rather allowed them to evaluate what's best for their society. Armenia kept many of the legal procedures, but they have since incorporated several of our initiatives."
From 2013 to 2014, the Armenian Bar representatives in Armenia concentrated on bringing reform "to a largely oligarchic ruling regime, and transparency in efforts to combat the prevailing corruption. We have reached out to communities to educate them and partner with various charitable groups, by giving counsel and advice to both practitioners and the citizenry, in such fields as domestic violence, and human and civil rights."
Citing one of the Armenian republic's gravest problems, he said that the massive emigration of people leaving Armenia due to lack of hope and opportunity must be addressed. In Armenia today, there is the continuing danger of a brain drain from one of the former Soviet Union's most educated and advanced republics. "It is necessary to make Armenia attractive for students and the youth, by creating a secure environment based on the rule of law and democratic values."
ARMENIAN BAR MIRRORS COMMUNITY
"And in the U.S., ArmenBar is a reflection of our community. Our parents and grandparents came here for hope, a safe haven and the promise of peace. Because of their heroic efforts, the true identity of the Armenian was not lost. At the same time that our culture was being preserved in our homes, we became part of our local communities across this country. Now is our opportunity to keep our Armenian traits of respect and courtesy, and not to always be conciliatory in the face of wrongdoing. It is necessary to talk respectfully, and reclaim what belongs to us without having a chip on our shoulders."
In the past, "our ancestors preserved our posterity with our churches, picnics, social gatherings. Now we must move forward outside of the protective walls of self-preservation," Hovannisian continued. "We have paid our dues. We are now fluent outside of those walls, and we are walking proudly into the future."
ArmenBar member Denise Darmanian who co-chaired the New York national meeting, paid tribute to the "astute foresight and keen intellect" of both ABA founder Raffi Hovannisian and current Chairman Armen Hovannisian. "To attend one of the annual or mid-year meetings of ArmenBar is akin to attending a family reunion," she commented. "Our membership amply epitomizes the best among the Armenians. In our midst are many attorneys who are first generation sons and daughters of immigrant families, and still others who are immigrants themselves who have risen through the ranks of American academia and jurisprudence to reach the pinnacle of success in law firms, law schools and the judiciary."
When ArmenBar first began, "it was comprised of a handful of lawyers," she continued. "Today, we have several hundred members from around the world. On the horizon, we see the next generation of Armenian lawyers, bright, capable, well-equipped to serve the diaspora and the homeland."
Calling the Armenian Bar a "pan-Armenian organization, 2012-2014 ABA Chairman Garo Ghazarian who has made numerous trips to Armenia, Artzagh and the Middle East, including Kessab, Syria where he met with the displaced Armenian refugees, explained that the ABA, regardless of our respective specialties in law have diligently striven to make it function as a voice against injustice suffered by our people."
As a "hub of diverse opinions, the Armenian Bar Association has been demanding justice when called for, and being blunt when necessary, from Yerevan to Ankara to Washington, D.C.," Ghazarian stated. "Together, as lawyers, judges, law professors and law students, we shall continue to always reach farther in the future for our people."