YEREVAN (Arka) — Tour operators and winemakers of Armenia are concerned about demolition of old houses in the central part of Armenia's capital city, particularly in the Pushkin- Abovyan-Arami crossroad.
Nune Manukyan, director of the Areni Wine Festival Foundation, told journalists on Thursday that demolition of old constructions strikes hard directly at tourism in the country.
"Tourism and wine industry are to-priority areas in Armenia's economy," she said. "But we are losing the face of the city which we can sell as a tourist product. As a result, the city is becoming not interesting to tourists. Tour operators can't shepherd tourists through Yerevan longer than one hour, and tourists leave the city without spending their money."
In autumn 2015, the city authorities confirmed rumors that houses in the mentioned streets would be destroyed. This decision sparked outcry also among Armenian winemakers, since there are wine cellars in the basement.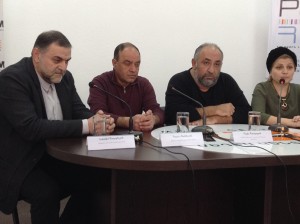 Manukyan said that a wrong policy is pursued by the authorities.
"Once we were assured that Northern Avenue in the very center of the capital will be different, not as we see it now," she said adding that tourists find nothing interesting in it.
"Instead, we organize tours through backyards and old-time places to show the city's spirit and atmosphere to them. Of course, financial resources are needed to maintain old monuments, but if they are preserved more resources come to the country's budget."
Recent studies of the Institute of Archeology and Ethnography of Armenia show that there are well-preserved wine presses and wine vaults of 16-18 centuries in Yerevan's territory.
"As a historian specialized in wine production history, I say that it is very important to preserve these historic places," said Boris Gasparyan, a research officer at the Institute of Archeology and Ethnography of Armenia. "It is not enough to save wine vaults from demolition – we should treat these historical monuments seriously, since they are our wealth."
Gasparyan said that the problem is not to lay legislative groundwork for preserving historical monuments, but to have a good will to do that.