ISTANBUL — Camp Armen Armenian orphanage in Istanbul was attacked on Monday, September 7 night, News.am reports.
Six people armed with clubs approached the orphanage building and attempted to open its gates, reports the website of the Nor Zartonk movement of Istanbul Armenians against the demolition of Camp Armen. Those on the lookout were able to force back the attackers.
Nonetheless, those who keep watch at the orphanage warn that such attacks may repeat and ask for support and solidarity.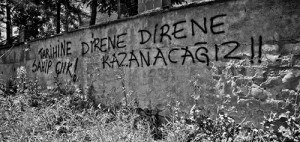 Camp Armen Armenian orphanage was confiscated by the Turkish authorities back in 1987. Subsequently, it was sold to a Turkish businessman who, in turn, decided to demolish the orphanage and build luxury homes in the premises. Due to public pressure, however, the demolition of the orphanage has been temporarily postponed.
The camp was once home to around 1,500 Armenian children, including the late Hrant Dink, the founder and editor-in-chief of Agos, an Armenian bilingual weekly in Istanbul, who was shot dead on January 19, 2007 outside his office, and his wife Rakel.
The orphanage sought to help underprivileged Armenian children and orphans, who had moved to Istanbul from other parts of Turkey to receive education.