TARZANA, CA — On August 4, 2015, the Diocesan Primate H.E. Archbishop Hovnan Derderian participated in an ecumenical service commemorating the Centennial of the Assyrian Genocide. Organized by the Assyrian Genocide Centennial Committee of Los Angeles, the service was held at St. Mary's Assyrian Church of the East and was presided by His Grace Mar Aprim Khamis, Bishop of the Western Diocese of the Assyrian Church of the East.
In his address to the congregation, the Primate said in part Assyrians, Armenians and Greeks all share a similar pain. We all need to honor the memory of our victims who for the sake of their ancestral Christian Faith and holy traditions have sacrificed their lives with the vision that their God-given lives have been similar to the life of the Son of God. Tonight's prayer service is the reflection of our respect and compassion for the innocent lives of our ancestors, who were fallen for the sake of their Christian Faith. Very few survivors of the dark genocide remain and they pass on each day. However, their unconquerable spirit will live forever. We will continue to honor their memory, thus not only as a form of respect for their martyrdom but also as a clear message to all nations that the gift of life granted to us by God cannot be taken away forcibly or brutally."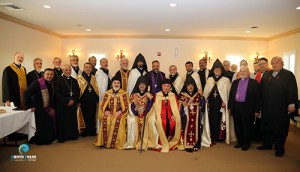 Los Angeles City Councilman Paul Krekorian was among the civic leaders in attendance. Councilman Krekorian delivered the keynote address wherein he stated the importance of the recognition of Genocide as means of preventing future crimes against humanity.
The moving Armenian liturgical hymn "Der Voghormia" (Lord Have Mercy) was sung by Anahit Nersisyan during the service.
The Very Rev. Fr. John Bakas, Dean of St. Sophia Greek Orthodox Cathedral performed a Greek liturgical hymn.
Every first week of August during Assyrian Memorial Day, Assyrians around the world honor those who paid the ultimate sacrifice so that future generations may live. The year 2015 in particular marks a milestone in the fight for recognition of one of the worst genocides of the 20th century. It is both a historic and symbolic year for Assyrians, Armenians and Greeks as our people commemorate the 100th anniversary of the loss of millions by Ottoman Turkey.
This milestone year is a tribute to the astonishing effort and will of Assyrians living in Los Angeles, the United States and around the world, who as a result of their unshakable faith, resilience and valiant vision, rebuilt a nation and people that were nearly annihilated.