YEREVAN. – A delegation from the South Korea-Armenia Friendship Group at the National Assembly (NA) of South Korea, and led by the head of this group, Noh Young-min, is in Armenia on an official visit.
The delegation on Friday visited the Armenian Genocide Memorial in capital city Yerevan. The South Korean MPs were accompanied by the head of the Armenia-South Korea Friendship Group at the NA of Armenia, Samvel Farmanian, as well as Armenia's Ambassador to Japan and South Korea, Hrant Poghosian.
The South Korean deputies—on behalf of the South Korea-Armenia Friendship Group—placed a wreath to the Armenian Genocide Monument, placed flowers near the eternal flame, and stood in silence in memory of the holy martyrs of this tragedy.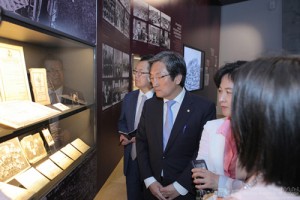 The guests also visited the Armenian Genocide Museum-Institute, got familiarized with the documents attesting to the fact of the genocide, and viewed the respective photographs and exhibits.They also signed the guestbook of the museum institute.
Later in the day, the South Korean parliamentary delegation held a meeting with the President of the National Assembly of Armenia Galust Sahakian. Sahakian underscored the development of Armenian-South Korean relations, and specially stressed the deepening of parliamentary ties between the two countries. He also highly appreciated South Korea's balanced approach toward matters that are of importance to Armenia. In addition, Sahakian spoke about the Armenian NA initiative entitled "Parliamentarians against Genocide," wherewith the parliaments of the world are urged to condemn genocides around the world.
Noh Young-min, for his part, noted that, after visiting the Armenian Genocide Museum-Institute, he had experienced a great pain in seeing the evidence of the tragedy that befell the Armenian people. The head of the Korea-Armenia Friendship Group added that his country and Armenia have shared the same respective fate.
Noh Young-min presented to the Armenian parliament leader his book titled Contemporary Tragedies, the first chapter of the book is devoted to the Armenian Genocide.