MADRID — Spanish El Confidencial newspaper has published an article on the book "Memory of Ararat" by Xavier Moret where the author commemorates the 100th anniversary of the Armenian Genocide perpetrated by Turks.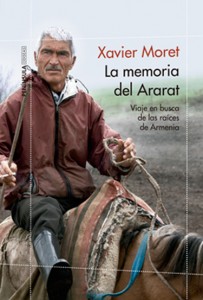 In 1939, before invading Poland, Hitler told his commanders, "Who remembers the Armenian Genocide?" 75 years later this question is still topical: "How many people know what happened in 1915-1923 in Armenia?"
During some eight years the Young Turks deported and murdered 1,5 millions of Armenians in the Ottoman Empire. Nevertheless, the international community never paid attention to this issue and did not even try to heal the open wounds of the Armenian people. Only 22 states have recognized the Armenian Genocide so far; Spain, the USA and Israel are not among these countries.
"The centennial is the best moment to speak about this subject. 1,5 million lost lives left a deep wound in the heart of the Armenian nation. It is high time for the states to recognize the Armenian Genocide and face the history," Moret said.
The author presents the story of 103-year-old genocide survivor Movses Haneshanian. "The 5-year-old boy witnessed how Turks took away his father and made him dig a canal in the desert together with other Armenians. After the work was done, they were driven to Syria. They killed and beat those who disobeyed; even pregnant women were murdered."
Mount Ararat, the symbol of Armenia, is now in the territory of Turkey. The mountain, on top of which Noah's Ark rested, is a symbol of eternity and survival of a nation that fights for the world to face the past 100 years later.