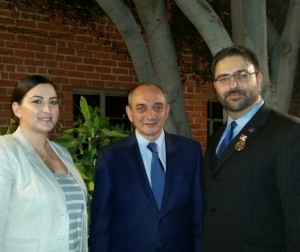 On November 26, Artsakh Republic President Bako Sahakyan visited the Consulate General of the Republic of Armenia in Los Angeles where he participated in a solemn ceremony awarding Artsakh's "Gratitude" medal to a group of public officials and community leaders from the Armenian Diaspora for supporting the adoption of the resolution on Artsakh's Independence by the California State Assembly and Senate. Among the awardees was Armenian Council of America Chair Sevak Khatchadorian.
Other awardees included California State Senate Pro Tem Kevin de León members of the California State Assembly, Mike Gatto, Katcho Achajian, Sheryl Brown, Adrin Nazarian and Scott Wilk; former Speaker of the California State Assembly, John Perez; Los Angeles City Councilman Paul Krekorian; Armenia's Ambassador to Mexico Grigor Hovhannisyan; Armenian Assembly of America's Talin Yacoubian, Chair of the Armenian National Committee of America-Western Region Nora Hovsepian, as well as Elen Asatryan; Tereza Yerimyan; Haig Baghdassarian; Deputy District Director for Sen. de León Baydsar Thomassian.
The Resolution, authored by Assemblymember Mike Gatto, which passed in the State Assembly in May and the State Senate in August, calls for the United States to recognize the Nagorno-Karabakh Republic as a sovereign state, invokes strong language from the United States' own history regarding the rights of the people to "self-determination and democratic independence."
President Sahakyan called the recognition of Nagorno Karabagh by California a unique political, legal and moral address supporting the process of realizing the right of peoples to self-determination and building a civilized democratic state. President Sahakyan noted that it was a substantial victory that had been reached by joint efforts due to the Armenia-Artsakh-Diaspora solid trinity, genuine and firm friendship of our American partners.
California is the strongest entity in the United States, with an economy among the seven leading economies in the world, as well as the most populous governmental entity to call for Nagorno-Karabakh's recognition or to recognize it outright.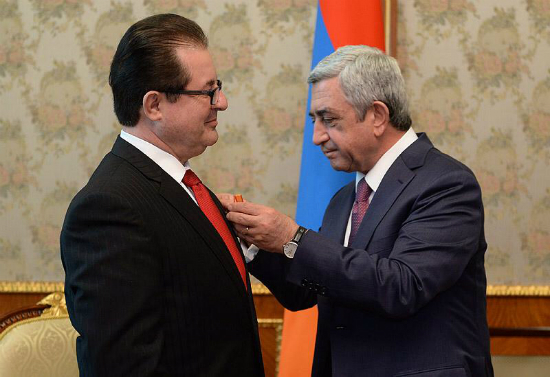 The night also included the Ambassador Extraordinary and Plenipotentiary of the Republic of Armenia to the United States of America, H.E. Mr. Tigran Sargsyan, awarding on behalf of the President of Armenia, the Mkhitar Gosh medal to Assemblymembers Achadjian, Gatto, and Nazarian. Similarly, Artsakh President Sahakyan awarded the Mkhitar Gosh medal to Armenia's Consul General to Los Angeles Sergei Sarkisov and Chairman of the Armenian Revolutionary Federation Western US Central Committee Dr. Viken Hovsepian. The Mkhitar Gosh medal was awarded in Armenia, by Republic of Armenia President Serzh Sargsyan to Mr. Vasken Kaltakdjian, Chairman of the Louisiana chapter of the Armenian Council of America, and member of the Central Committee of Social Democrat Hunchakian Party.
Primate of the Artsakh Diocese of the Armenian Apostolic Church Archbishop Pargev Martirosyan, vice-premier Arthur Aghabekyan, and other officials and representatives of the local Armenian Diaspora partook in the event.