YEREVAN — On September 17, the RA Ministry of Diaspora and the Institute of History of the National Academy of Sciences of the Republic of Armenia, held a presentation led by Lebanese-Armenian political figure and historian, Yeghig Jerejian, with his sixth book released in Beirut entitled, "From the Ones Who Built the Road to Eternity."
The event began with welcoming remarks by RA Minister of Diaspora Hranush Hakobyan, who mentioned that the presentation of this book is symbolic since Yeghig Jerejian has brought home the Armenian heroes of the national liberation movement.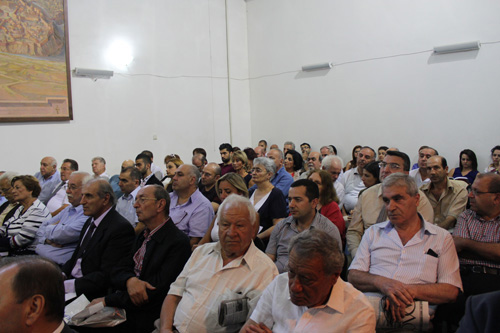 "We don't know much about our heroes. Mr. Jerejian has wiped the dust off and has lifted our noble men. They are people who dedicated their lives to the national liberation movement of the Armenians in the late 19th century and early 20th century and experienced a period in their lives that is the most tragic in the history of the Armenian people, and it is in that period that they were able to become heroes. Today, we must pass on to our future generations the life stories and endeavors of these heroes. The Armenian Revolutionary Federation-Dashnaktsutyun, the Armenian Democratic-Liberal Party (Ramgavar) and the Social Democrat Hunchakian Party are Armenia's national assets since they have managed to preserve and maintain everything that is national for more than a century," Minister Hranush Hakobyan said in her speech, expressing gratitude to Yeghig Jerejian for his activities aimed at preserving the Armenian identity.
"From the Ones Who Built the Road to Eternity" is mainly a unique collection of biographical essays shedding light on the acts of members of the Hunchakian Party. The book will help experts gain a better understanding and appreciation for the placement and role of the Social Democrat Hunchakian Party in the general background of the history of the Armenian liberation struggle.
For many years, Yeghig Jerejian has been a member of the Parliament of the Republic of Lebanon and has made great contributions towards the establishment and development of interstate relations between Armenia and Lebanon.