MAGDEBURG — Arthur Abraham defeated Robert Stieglitz by split decision on Saturday in their third bout, winning back the WBO super middleweight title he lost to his fellow German in March last year.In their first meeting Stieglitz won by fourth-round TKO to take Abraham's WBO belt.
Arthur Abraham reclaimed the WBO super middleweight title he lost to Robert Stieglitz last year by winning a split decision on Saturday in their third bout.
In a 12-round rematch in Magdeburg, Germany, Judges Clark Sammartino of the United States and Paul Thomas of Britain scored it 114-111 and 115-110 for Abraham, respectively, while American Michael Pernick judged it 113-112 in favor of the defending champion.
Abraham, who beat Stieglitz by unanimous decision in their first bout in 2012 and lost on a technical knockout last year, improved to 39-4, with 28 knockouts.
"That was a real battle," Abraham said. "Respect to Stieglitz; respect to my coach. We really saw a good fight. Of course I see myself as the winner. I won through my hard punches."
Abraham will return to action on May 31st, when he will make the first defense of his newly won title. The opponent and venue will be announced later.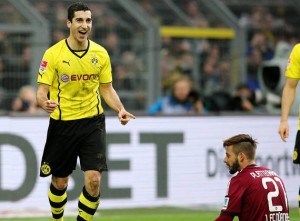 Henrikh Mkhitaryan's Goals Help Borussia Dortmund Beat
FC Nürnberg and FC Zenit Saint Petersburg
Borussia Dortmund's Henrikh Mkhitaryan was delighted to have helped his team return to winning ways after the 3-0 win against FC Nürnberg. Mkhitaryan was credit with an assist and a goal that moved Dortmund into second place in the Bundesliga after this win.
Germany defender Mats Hummels marked his first game in four weeks by netting from close range to open the scoring. Robert Lewandowski then tapped home to double the hosts' lead after Henrikh Mkhitaryan's pass.
Mkhitaryan and Nürnberg keeper Raphael Schafer were locked in a fascinating battle throughout, and the midfielder finally got the better of the visiting goalkeeper seven minutes from time, sliding home after a delightful through pass from substitute Jonas Hofmann.
On Tuesday Dortmund defeated FC Zenit Saint Petersburg 4-2 in UEFA Champions League round-of-8 first-leg away match.
Armenian international Mkhitaryan opened the score in the fourth minute as he finished from the centre of the penalty area following Jonas Hofmann's cross.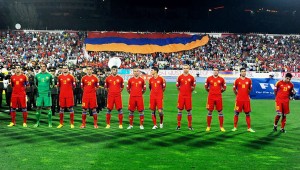 Armenia to Play Russia in a Friendly Match on March 5
The national football teams of Armenia and the Russian Federation will play a friendly match on March 5 in Krasnodar, Russia. The match will be televised live on Armenia TV.
Armenia and Russia are 30th and 22nd, respectively, in the new International Federation of Association Football (FIFA) World Ranking.
This will be the first friendly game between the two national squads. The two teams have faced each other four times in official tournaments. Russia defeated Armenia three times and one match ended in a scoreless draw.
Armenia will face Algeria in a friendly match that will take place in Stade de Geneve stadium in Geneva, Switzerland on May 31. Algeria is currently ranked 26th in FIFA World Ranking.
The Armenian national football team will play a friendly charity match against Germany on June 6 in Mainz, Germany.
Russia , Algeria and Germany have all qualified to play in World cup 2014 in Brazil.