YEREVAN — Thousands of people gathered in central Yerevan on March 1 to commemorate the deaths of 10 people in 2008 during deadly postelection clashes between Armenian security forces and protesters. The rally at Freedom Square in Yerevan started with a minute of silence in memory of the victims.
"All of them died on their way towards peace, dignity and development of the country," member of the Armenian National Congress Aram Manukyan said as he read out the names of the ten victims.
Speaking at the rally, leader of the Armenian National Congress Levon Ter-Petrosyan leveled harsh criticism at the government over what he described as its failed policies in different spheres, arguing that the current administration is not capable of carrying out the needed drastic reforms in the country.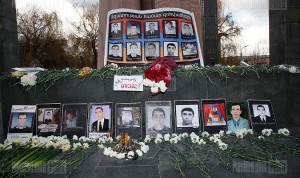 The rally ended in a march staged towards the monument to Alexander Myasnikyan, the main venue where the deadly clashes of March 1-2, 2008 took place, where people laid flowers and lit candles.
Ten people were killed in the March 1-2, 2008 clashes between demonstrators demanding a rerun of a disputed presidential vote and security forces deployed in downtown Yerevan to quell the riot. The events followed 10 days of street protests organized by supporters of former president and current ANC leader Levon Ter-Petrosyan.