WASHINGTON, DC — The tragic loss of life in the Karabakh war reminds us that there cannot be a military solution to the Nagorno-Karabakh conflict, Spokesperson for the US Department of State Jen Psaki said at a daily briefing.
"Only a lasting and peaceful settlement can bring stability and prosperity and reconciliation to the region," she said.
"As a co-chair of the Minsk Group, the United States remains firmly committed to working with the sides, both sides, to achieve peace," the Spokesperson said.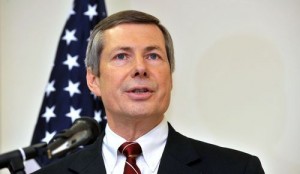 The chief U.S. negotiator on the Nagorno-Karabakh conflict urged the warring sides on Friday to bolster the ceasefire even after the recent Winter Olympic Games in Sochi.
"The [Governments] of Armenia and Azerbaijan should continue the Olympic truce and respect the ceasefire. Too many have died. Don't you agree?" James Warlick, the U.S. co-chair of the OSCE Minsk Group, wrote on his Twitter account.
Warlick and fellow mediators from Russia and France said ahead of the Sochi Olympics that the conflicting parties have pledged to "strengthen observance of the ceasefire and avoid further escalation" during the games.