MORNOVIA, CA – Mt. Sierra College organized and served as one of the sites of the Global Game Jam (GGJ) for the third consecutive year on the weekend of January 24-26. The Global Game Jam, the world's largest game jam event (game creation), takes place around the world every year at different physical locations and fosters the spirit of collaboration. Global Game Jam is like a marathon focused on game development and facilitates a global creative interest in games, while exploring the process of development by programming, interactive design, narrative exploration or artistic expression.
Based on the structure of a GGJ, participants gather on Friday late afternoon at different sites globally, watch a short video keynote with advice from leading game developers, and wait for a "secret theme" to be announced. All sites worldwide are then challenged to make games based on that same theme, with games to be completed by Sunday afternoon. This year's theme was "we don't see things as they are, we see them as we are."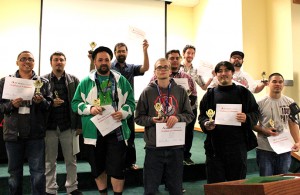 A record number of 74 students participated in the 2014 version of Global Game Jam at Mt. Sierra College, creating six original digital and one board game during the 48 hour jam session. Students from Game Arts, Media Arts, Information Technology as well as Business participated in this year's development of games. Games developed by Mt. Sierra College students were themed around memory loss ("Masks"), robot awakening drones ( "MazOr LazOr"), influence of imaginary friends ("Fate of Influence"), psychological thrill ("Deceit") and mystery action adventure ("Spectacle").
Mt. Sierra College awards were given in the categories of "Best Team Collaboration," "Most Experimental," "Interpretation of the Theme," "Innovative Concept," "Outstanding Level Design," "Outstanding Programming" as well as others.
This year's Global Gam Jam was by far one of the most creative thus far. "I am beyond impressed with not only the turnout this year in participation but the caliber of the games created. I truly believe our students have outdone themselves and we are all very proud of what they achieved personally and professionally" said Tawny Hernandez, Assistant Director of Student Services at Mt. Sierra College.