A Turkish shepherd was reportedly shot and killed by border guards on Wednesday after illegally crossing into Armenia to retrieve his sheep said to have gone astray.
Turkish media reported on Thursday that the 35-year-old man, Mustafa Ulker, grazed his livestock in Turkey's eastern Kars province bordering Armenia.He had illegally passed to the Armenian side from the province's Arpaçay district after reportedly going to retrieve a lost sheep.
Kars Governor Eyup Tepe noted in a statement: "One of our citizens has lost his life. The Armenian side wants to return [his body]. Our brigade commander assistant and district governor is at the border. We will receive our citizen's [body] probably from the east gate."
Tepe blamed the incident on "Armenian soldiers" who he said reacted disproportionately to what he described as an unintentional borer violation. He said that the shepherd was not armed.
Armenia's closed border with Turkey is protected by Russian border guards backed by Armenian personnel. Their spokesman, Sergey Grechin, was quoted by Armenian and Russian news agencies as saying that an "incident" did occur at the border and is now being investigated. Grechin declined to comment further.
Turkish herdsmen have reportedly crossed the Turkish-Armenian frontier on a number of occasions in the past. They all were detained and deported without any bloodshed.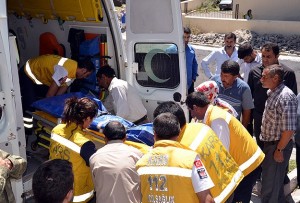 Later in the day the body of the shepherd was transported to Turkey, reports Cihan News Agency of Turkey.
It is noted that negotiations were held with the Armenian side for the return of the body, and once the respective protocols were conducted, the body was taken and transported to Arpacay region, and, subsequently sent to Erzurum for an autopsy.