YEREVAN — Armenians voted in a presidential election on Monday which was widely expected to give President Serzh Sarkisian a second five-year term in office.
According to the Central Election Commission (CEC), 60.5% (1,518,407)  of Armenia's 2.5 million eligible voters cast ballots in 1,988 polling stations across the country by voting closing 8.00pm local time. Sarkisian and his two main opposition challengers, Raffi Hovannisian and Hrant Bagratian, were among the early voters.
But with none of Sarkisian's serious opposition rivals choosing to stand, election observers expressed concerns over the democratic credentials of the vote.
Officials from the Parliamentary Assembly of the Council of Europe (PACE) said they found apathy towards the vote and a lack of confidence about the electoral process among the public when they visited the country in January.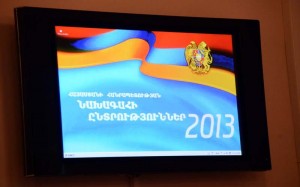 "I voted for Armenia's future," Sarkisian said after casting a ballot in central Yerevan. "I voted for a secure Armenia, for the security of our citizens and families."
Hovannisian, meanwhile, voted at a polling station in Yervan's Nor Nork district. "Today is the most fateful day in our modern history," he told reporters. "For the first time in 20 years our people are going to celebrate not somebody's victory and others' defeat but the results of elections belonging to themselves."
Bagratian likewise cited vote buying and other "numerous" irregularities reported by his campaign offices as he visited another polling station in the Armenian capital. He said he is already thinking about "post-election developments."
During the first several hours of the election observers have reported a number of violations that have been typical for past national elections as well.
Violations connected with the early oxidation of ink stamps in the passports of voters, crowding at polling stations, interference by candidate proxies in the voting process were observed.
Allegations of people being bussed to polling stations have also been made during the current vote. In some cases voters (most of whom are supposed to be residents of nearby buildings) are brought on taxis.
Also voting on Monday was former President Levon Ter-Petrosian, another opposition leader who was Sarkisian's main challenger in the 2008 presidential election. Ter-Petrosian, who is not running for president this time around, refused to disclose whom he voted for.
"I voted for the Republic of Armenia," said the leader of the opposition Armenian National Congress (HAK). "I would love to vote for all seven candidates but the law doesn't allow that," he added jokingly.
Robert Kocharian, another ex-president who handed over power to Serzh Sarkisian in 2008, did not take part in the voting. His press secretary, Victor Soghomonian, told RFE/RL's Armenian service (Azatutyun.am) that Kocharian is not in Armenia at the moment.