YEREVAN — Authorities tightened security at state-run universities in Yerevan on Monday as students boycotted classes and took to the streets to demand a rerun of last week's presidential election.
The protesters supporting opposition candidate Raffi Hovannisian rallied outside several universities, urging fellow students to join the boycott. "We are calling on you to join this movement," one of their leaders shouted through a megaphone outside Yerevan State University (YSU), the starting point of the protests.
Chanting "Boycott to classes", "We are the masters of our country", "Free, independent student" and with posters "You are taking the dead to vote, to do what?", students rallied for 20 minutes in front of the State University.
"This [opposition] movement has no concrete political orientation, it's everybody's fight," he said. "We all know well who won these elections. The people won these elections."
"I'm against vote falsifications. This is my civic position," another participant told RFE/RL's Armenian service (Azatutyun.am).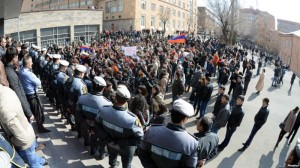 Several others claimed to have been warned by university administration that they will risk dismissal in case of boycotting classes. "Of course I'm not scared," one young woman said. "I am not taking unconstitutional actions. I'm not for sale. I'm fighting for my future."
After the protest the students marched from YSU to other universities, urging other students to join them. The gates of Yerevan State Economics University (YSUE) and Yerevan State Medical universities had been shut down to not let them in. Despite that, a group of male students at YSUE jumped out of the ground-floor auditorium window to join the strike. They marched to their final destination – the Central Election Commission, where the second count of ballots was being summed up at that moment.
The crowd waving Armenian flags and wearing orange ribbons was briefly joined by Hovannisian at one point. The opposition leader hailed the action.