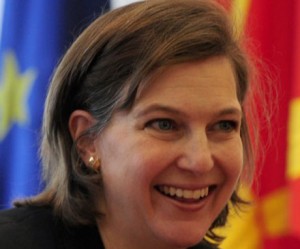 WASHINGTON, DC — The United States has called for a "diplomatic solution" to an escalating Armenian-Azerbaijani war of words over the planned launch of commercial flights from Armenia to Nagorno-Karabakh.
"The United States urges the parties to find a diplomatic solution to issues relating to the operation of the airport, in keeping with the relevant international agreements, customary international law, and the current practice between Armenia and Azerbaijan with respect to civilian air travel," State Department spokeswoman Victoria Nuland told a news briefing in Washington on Friday.
Nuland would not say whether or not the planned flights from Yerevan and Stepanakert should go ahead without Azerbaijan's permission. She cited instead statements on the issue that have been made by U.S., Russian and French mediators seeking to broker a peaceful settlement of the Karabakh conflict.
In one such statement issued in July, the three co-chairs of the OSCE Minsk Group said they "received renewed assurances from the sides that they will reject any threat or use of force against civil aircraft, pursue the matter through diplomatic steps, and refrain from politicizing the issue."
However, Azerbaijani officials have since continued to threaten to forcibly halt any flights to Stepanakert's newly renovated airport. The Azerbaijani Defense Ministry reiterated those threats last week. The Armenian military, for its part, warned that it would counter any Azerbaijani attempts to shoot down civilian aircraft over Karabakh.
Although the Karabakh airport's reconstruction was essentially completed recently, it remains unclear when it will start functioning. The Karabakh authorities have repeatedly postponed the launch of the flights, citing technical problems.