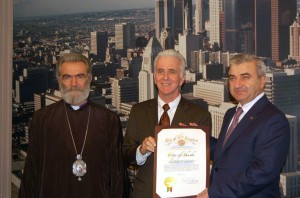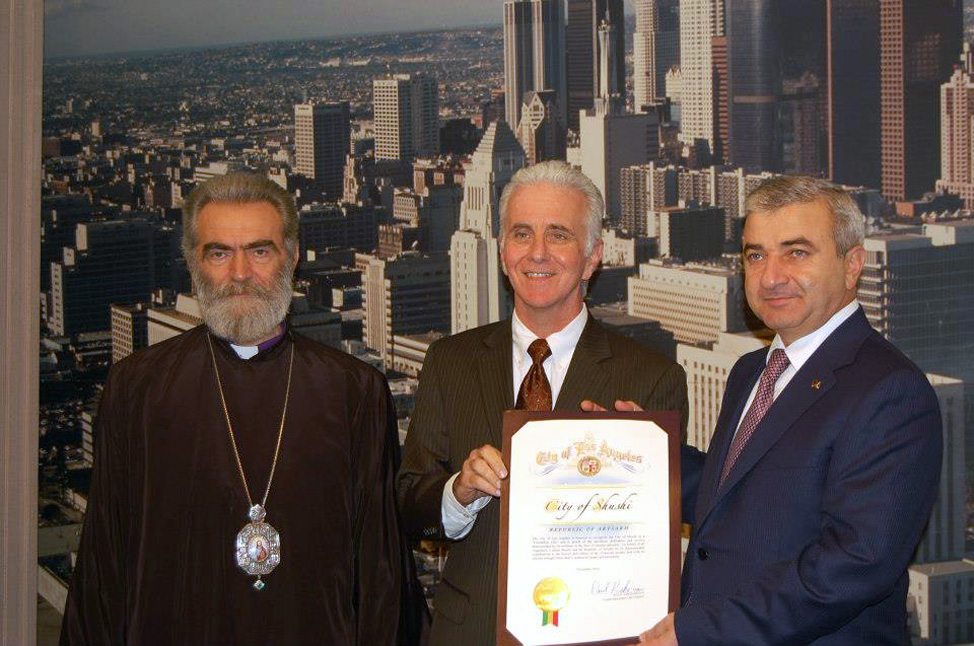 LOS ANGELES — On November 21st National Assembly Speaker of NKR Ashot Ghulyan visited Los Angeles City Council where council members presented a proclamation declaring the City of Los Angeles and the City of Shushi as "friendship cities." Councilmember Paul Krekorian, along with Councilmember Garcetti welcomed the Nagorno-Karabakh Republic delegation.
In his welcoming remarks, Los Angeles City Council Member, Eric Garcetti called for justice and self-determination for Nagorno-Karabakh.
"It's a great honor to receive you, Mr. Ghulian. We see Los Angeles as a place where self-determination is critical for so many people, who come here from around the world fleeing war and conflict and the lack of human rights. We really see this as a great beacon and whatever we can do for our friendships not only for the Armenian-American community— but all of us here in Los Angeles, to ensure that Nagorno Karabakh (Artsakh), will receive justice and self-determination; but we are very honored to have you here." Garcetti stated .
The Primate of the Diocese of Artsakh Archbishop Pargev Martirosyan, the Consul General of the Republic of Armenia to Los Angles Grigor Hovhannisyan, the Permanent Representative of the Nagorno Karabakh Republic in the United States of America and Canada Robert Avetisyan and the Head of Foreign Relations Department of the Ministry of Foreign Affairs of the Republic of Nagorno-Karabakh Armine Aleksanyan took part in the event.