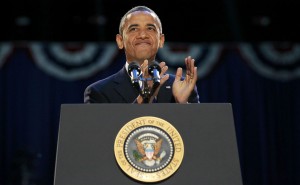 President Barack Obama won re-election to a second term in the White House beating Republican challenger Mitt Romney after a long and bitter campaign.
Obama defeated Romney in a series of key swing states despite a weak economic recovery and persistent high unemployment as U.S. voters decided between two starkly different visions for the country.
Obama handily defeated Romney after nabbing almost every one of the 12 crucial battleground states.
The Obama victory marks an end to a years-long campaign that saw historic advertisement spending levels, countless rallies and speeches, and three much-watched debates.
Armenia's President Serzh Sarkisian on Wednesday congratulated U.S. President Barack Obama on winning reelection and expressed confidence that U.S.-Armenian relations will grow even closer during his second term.
"Your impressive victory has proven that the course taken by you for moving the United States forward, your domestic and international policy meet the expectations of the overwhelming majority of the American people," Sarkisian said in a letter released by his press office.
"I am also greatly pleased that with your reelection we will be able to continue to develop and deepen the Armenian-American relations which currently enjoy the highest level in the history of our bilateral contacts," he said. "I remain confident that during the four years of your second term our multifaceted cooperation will yield new impressive results for the mutual benefit of our peoples."
Armenian Council of America- PAC had endorsed President Obama for a second term, while another Armenian PAC stayed neutral in this race.