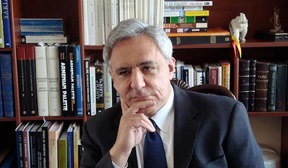 YEREVAN — The Prosperous Armenia Party (BHK) of Gagik Tsarukian, the country's second largest parliamentary force, claimed to be persecuted by the government on Friday as it strongly condemned criminal proceedings launched against one of its most prominent members.
The BHK said the Armenian authorities' intention to strip Vartan Oskanian of his parliamentary immunity from prosecution is an act of "political persecution" directed not only against the former foreign minister but also the entire party.
At issue is whether the Civilitas Foundation – led by Oskanian until his resignation last February – criminally mishandled money originating from U.S. businessman Jon Huntsman, estimated at about $2 million.
Oskanian said that he is undaunted by what he considers a politically motivated prosecution and will fight against President Serzh Sarkisian's administration "to the end."
In a written statement, Oskanian dismissed Prosecutor-General's decision to ask the National Assembly to allow his prosecution on money laundering charges. He said the move heralds "a new phase in my political struggle."
"If the purpose of all this is to inhibit my political activities and silence my criticism of a government that has failed in all areas, then I can definitely say that the authorities are mistaken in these calculations as well," he said.
"Prosperous Armenia is expressing unconditional support for its member and is ready to achieve the restoration of justice by all possible legal means," read a statement issued by its governing board. "Prosperous Armenia strongly condemns the application of such methods to political issues."
The statement described as baseless Prosecutor-General Aghvan Hovsepian's petition asking the Armenian parliament to authorize Oskanian's prosecution on money laundering or related charges. It said the BHK's parliamentary faction will submit "a package of documents" disproving the allegations when the National Assembly discusses the matter on Monday.
The statement was issued several hours after Tsarukian and other members of the 37-member faction met to discuss the development. BHK representatives said after the meeting that the party will declare its official position on Monday.
The National Security Service (NSS) opened the criminal case in late May one day after Tsarukian announced his decision to withdraw from Armenia's governing coalition. The decision followed disputed parliamentary elections, official results of which gave a landslide victory to President Serzh Sarkisian's Republican Party of Armenia (HHK).
Relations between the HHK and the BHK have steadily deteriorated over the past year amid Tsarukian's reluctance to pledge support for Sarkisian's reelection plans. The controversial case against Oskanian is viewed by some Armenian observers as a government warning to Tsarukian connected with the February 2013 presidential election. The government and the NSS strongly deny any political motives, however.