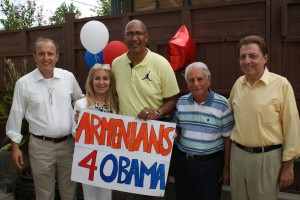 PASADENA — On Sunday, September 9, 2012, many Armenian community leaders and members gathered at Chris Chahinian's residence in Pasadena to "meet and greet" Mr. Chris Holden. Mr. Holden has served the Pasadena community for over 20 years as a City Council member, Mayor, and in many other capacities. He is the leading candidate for the upcoming elections in November for the State Assembly seat of the 41 district.
The Armenian Community Coalition is committed to support and help Mr. Holden in his race to the State Senate seat. The Coalition believes that Chris Holden will continue pursuing the Pasadena community's interests and that he is the right man to do it because of his integrity, knowledge, experience, and dedication.
Roy Boulghourjian was the M.C. for the event and after a short introduction he invited Mr. Holden to speak to the audience. Mr. Holden shared his thoughts, plans, and his vision about the future. A few of the attendees asked some interesting questions and raised some concerns to which Mr. Holden responded in a very impressive fashion. The host of the evening and the Armenian Community Coalition chairman, Mr. Chahinian added a few words of encouragement and support. He asked everyone to actively support Mr. Holden's election campaign by any means possible. All in all, it was a very successful event and everyone left very thrilled and pleased. Delicious food and refreshments were provided courtesy of Corfu restaurant of Sierra Madre.
Mr. Holden truly deserves to be in this seat and the Armenian Community Coalition is confident that Pasadena and the neighboring cities will benefit greatly when he becomes a member of the state assembly.