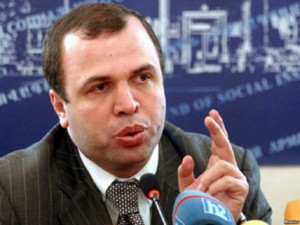 YEREVAN (RFE/RL) — The former head of Armenia's state pension fund and two of his former high-ranking subordinates were arrested on Friday in a continuing criminal investigation into allegedly massive abuses in the payment of various social benefits.
State prosecutors said Vazgen Khachikian, who managed the State Social Security Service (SSSS) until December 2010, was immediately charged with several counts of "particularly large-scale" fraud, embezzlement and misappropriation of public funds by "an organized group."
Similar charges were also brought against the two other suspects: Hovannes Grigorian and Ashot Abrahamian. They used to run key SSSS divisions.
Khachikian, who is a prominent member of the ruling Republican Party of Armenia (HHK), was sacked by the government two years ago shortly after the Armenian parliament's Audit Chamber alleged that thousands of pensioners received, on paper, pensions years after their death. The chamber reported similar abuses in the payment of poverty and disability benefits. It suggested that that this money was pocketed by pension fund officials.
The Office of the Prosecutor-General found these claims credible in May 2011, assigning the Armenian police to open a criminal case. According to the law-enforcement agency, 29 persons have been charged as part of the police investigation. Twelve of them have already received prison sentences in three separate trials. Among the jailed individuals is the former head of the SSSS branch in Yerevan's Davitashen district.
Khachikian avoided prosecution until recently. His arrest came about two weeks after President Serzh Sarkisian mentioned the 40-year-old as he publicly accused the Armenian government of tolerating what he described as widespread corruption in state procurements.
The fraud scandal has led the government to revise the nationwide lists of more than 500,000 Armenian pensioners. More than 10,000 names have been removed from the registry as a result.