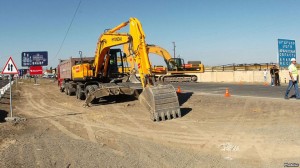 YEREVAN — A Spanish construction company launched on Thursday the first phase of a multimillion-dollar government project to upgrade Armenia's main highways stretching more than 550 kilometers to neighboring Georgia and Iran.
The Madrid-based group Isolux Corsan inaugurated the start of work on a 53-kilometer highway connecting Yerevan to the southern town of Ararat in the presence of its senior executives and Armenian government officials.
Corsan signed last April a $280 million contract with the Armenian Ministry of Transport and Communications to rebuild and expand this and another road running northwest of Yerevan. The total length of the two roads exceeds 90 kilometers. They are due to be refurbished before 2016.
The construction will be financed from a $500 million loan which the Manila-based Asian Development Bank (ADB) allocated to Armenia in 2009. The ADB loan is designed to support the implementation of the so-called North-South Project envisaging the reconstruction of the highways stretching from the Armenian-Iranian border to one of the three Armenian-Georgian border crossings.
The Armenian government says the planned upgrades will facilitate the landlocked country's access to the Georgian and Iranian ports. Another aim of the ambitious project worth at least $1 billion is to enable Iran to use Armenian and Georgian territory for large-scale freight shipments to and from Europe.
"This will give us greater economic opportunities," Transport and Communications Minister Gagik Beglarian told journalists at the ceremony. "The fact that we are going to have a fast transit motorway will also solve a very important national issue for Armenia."
Beglarian said the road works will also translate into 1,000 new jobs. Daniel Domingo, a senior Corsan executive, said some of the company's local staff will undergo special training. "We will hold special courses to bring their skills into conformity with European standards," he told RFE/RL's Armenian service.
The government has yet to indicate external sources of funding for the rest of what would be the single largest road project in Armenia's history. Its implementation was originally due to start in 2010.