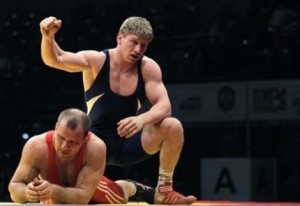 LONDON — Armenias Artur Aleksanyan won an Olympic bronze medal in the men's Greco-Roman wrestling 96kg event on Tuesday. Aleksanyan's victory over Cuban Estrada Falcon was very impressive, he scored two points in the first round and one point in the second.
Earlier Armenias Greco-Roman wrestler had defeated Turkey's Ildem Cenk in the initial bout for the Olympic bronze.
The 2012 European champion Aleksanyan had also defeated Italy's Daigoro Timoncini in 1/8 finals, however, he lost to Iran's Ghasem Gholamreza Rezaei in the quarterfinals. As the Iranian representative was qualified for the final, 22-year-old Alexanyan was granted with an opportunity to fight for the bronze.
Iran's Rezaei claimed the gold medal in the London 2012 Olympic Games in the men's 96-kg weight class by defeating Rustam Totrov of Russian Federation in the final match.