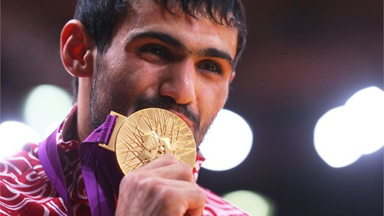 LONDON, UK — Arsen Galstian of Russia (Born in Armenia) won the Olympic men's 60-kilogram judo gold medal on Saturday.
Galstian defeated one of the favorites, Hiroaki Hiroaka of Japan, to take the division and then his first Olympic medal.
It took less than a minute for Galstian, 23, to score a match-ending ippon over Hiroaka, judo's equivalent of a knockout. He previously won a bronze at the judo world championships. The Olympic bronze medals were won by Uzbekistan's Rishod Sobirov and Felipe Kitadai of Brazil.
Armenian's representative in the same weight class, Hovhannes Davtian, 28, from Gyumri, lost to French Sofiane Milou in the match for the bronze medal.
In earlier rounds Davtian defeated Azerbaijan's Ilgar Mushkiev and Kazakhstan's Ekebulan Kosaev, before lossing to Italy's Elio Verde.