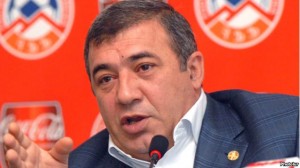 YEREVAN (RFE/RL) –Bowing to mounting pressure from opposition politicians, civic activists and media, Ruben Hayrapetian, an influential businessman close to the government stepped down as member of Armenia's parliament late on Tuesday in connection with deadly violence at a Yerevan restaurant owned by him.
In a written statement, Hayrapetian said he feels "moral" responsibility for the death of Vahe Avetian, a military doctor who was attacked at the restaurant in still unclear circumstances.
"I would give everything to be there on that ill-fated night to hold back the fists raised against the young men and stop that tragedy, which took away a life, ruined families and made children orphans," he said. "I would give everything to roll that back. But I can't. Vahe is not alive anymore. I must live with that and look his family members in the eyes. I don't know how."
"Now many are blaming me, even for things that have nothing to do with me and are fabricated. They probably have the right to do that. But my main accuser is myself," he said.
"I should have prevented that tragedy but failed to do that. Such an incident should not have been possible in a place connected with myself and my family. I can't forgive myself and don't know how I should ask for forgiveness."
"I hope that I will one day manage to receive forgiveness from Vahe's family. In any case, I will do everything for that," added the controversial tycoon heading the Armenian Football Federation.
The statement came shortly after Hayrapetian reportedly met with President Serzh Sarkisian at the presidential palace in Yerevan. There was no immediate official confirmation of that meeting.
Hayrapetian earlier denied any responsibility for the June 17 severe beating of Avetian and two other military doctors at the Harsnakar restaurant. In a June 19 statement, he condemned media reports and commentary blaming him for the violence. He also pledged to "do everything" to help law-enforcement authorities identify and punish the culprits.
Six men, most of them the restaurant's security guards, were subsequently arrested and charged with assaulting the medics. The main suspect in the case reportedly worked as one of Hayrapetian's bodyguards.
Hayrapetian came under renewed fire after Avetian died of severe heads wounds last Friday. He has been the main target of virtually daily demonstrations held in Yerevan, including outside the presidential office, since then.
The protesters, who are also actively using online social networks, say that Hayrapetian is responsible for the incident because he had instilled a sense of impunity in burly men working for him. They have said he must therefore resign as both parliament deputy and chairman of the Armenian Football Federation.
Also calling for Hayrapetian's exit from the National Assembly on Tuesday was the Armenian Association of Political Science. The organization is headed by Hayk Kotanjian, a retired army general who runs a think-tank linked to Armenia's Defense Ministry. A corresponding statement issued by Kotanjian on Tuesday morning gave more weight to media reports that many in the Armenian military also hold Hayrapetian responsible for the army doctor's death.
A deputy chairman of the ruling Republican Party of Armenia (HHK), Galust Sahakian, brushed aside those calls just hours before Hayrapetian announced his resignation. Sahakian insisted that the tycoon did not sanction the assault and must not be punished for his employees' violent conduct. He told RFE/RL's Armenian service (Azatutyun.am) that the HHK leadership headed by President Sarkisian will not even discuss the resignation demands.
Sahakian also defended Sarkisian's and the HHK's failure to offer official condolences to Avetian's family. "Every person has their own way and logic of feeling the pain," he said.