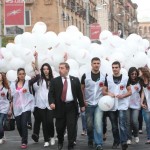 YEREVAN — Nearly half of those injured by exploding gas-filled balloons during a political campaign rally in Armenia's capital remained hospitalized on Saturday, according to state media.
By Saturday, medical personnel had still not discharged 76 of the victims, according to the official Armenpress..Twenty-five victims remain in intensive care
The ruling Republican Party of Armenia defended on Saturday its controversial decision to continue the campaign rally in Yerevan after the accident.
The event, which mainly involved live performances by Armenian pop stars, continued despite panic and chaos that followed the blasts.
The party's election campaign manager, Hovik Abrahamian, attributed that to security considerations. "Seconds after the incident we quickly consulted with police officials and experts who strongly insisted that stopping the event at that point could lead to more serious consequences," he told News.am.
"Even if there had been no panic and if the crowd that gathered in the square had dispersed at that point, there would have been serious traffic congestion and ambulances would not have been able to transport victims to medical institutions," he said.
"For organizing the transportation of victims we were asked to keep the crowd in the square for at least 40 minutes, until the last victim is taken to hospital, which is what we did," added Abrahamian.
Abrahamian did not explain why President Serzh Sarkisian, the Republican party leader, made no mention of the blasts in a campaign speech delivered in Republic Square shortly after the unprecedented incident.nited by a cigarette or lighter.