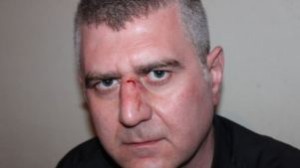 YEREVAN — Three opposition activists running for parliament were reportedly assaulted by government loyalists on Sunday as they campaigned in a Yerevan constituency that has long been controlled by a millionaire businessman backed by the ruling Republican Party of Armenia (HHK).
The activists said they were surrounded by a group of men inside an apartment block while handing out booklets and leaflets urging residents of the city's Malatia-Sebastia district to vote for Nikol Pashinian, a prominent member of the main opposition Armenian National Congress (HAK).
Pashinian, who is also the editor of the "Haykakan Zhamanak" daily, is running in a local single-mandate electoral district against Samvel Aleksanian, one of Armenia's richest men who has represented the constituency in the National Assembly for the past decade.
"Shouting abuse, a group of young men told us, 'Don't stick your noses in here. Who do you think you are? We are Republicans and we have our candidate,'" one of the HAK activists, Gayane Arustamian, told RFE/RL's Armenian service (Azatutyun.am) "They then swore at us, demanded that we get out, and punched and slapped me in the head. I was taken by surprise."
"When Babken [Garoyan] interfered to stop them, they pulled him away, dragged him downstairs and started beating him," Arustamian said. "He was beaten up brutally."
Amateur video images posted on the Internet showed bloody injuries on Garoyan's face. According to Arustamian, he suffered a broken nose and required hospitalization.
A spokeswoman for the Office of the Prosecutor-General, Sona Truzian, told RFE/RL's Armenian service (Azatutyun.am) on Monday that the Armenian police have opened a criminal case in connection with the incident. She said the investigation is conducted under an article of the Criminal Code that applies to violent attacks resulting in light injuries. No arrests were immediately reported by law-enforcement authorities.