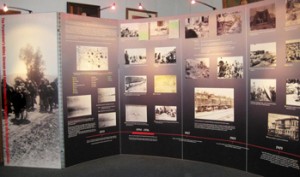 WASHINGTON, DC — The Armenian Genocide Museum of America announced the opening on April 5 of an exhibit entitled "Witnesses to the Armenian Genocide." The exhibit brings together the surviving photographic record of the Armenian Genocide produced by German witnesses. The exhibit is being presented with the Armenian Assembly of America and the Armenian National Institute.
The Witnesses to the Armenian Genocide exhibit is hosted by the Lutheran Church of the Reformation. The Lutheran Church of the Reformation has been serving the Capitol Hill community since 1869 and its congregation strongly supports ecumenical activities. It is located two blocks east of the Capitol and just behind the Supreme Court building. Situated between 2nd and 3rd Streets, the Church also sits across from the Folger Shakespeare Library and the Library of Congress. It can be reached from the Union Station or Capitol South metro stops.
Photographic evidence on the Armenian Genocide is extremely rare. Although Imperial Germany and the Ottoman Empire were military allies during World War I, the Ottoman Turkish authorities responsible for the Armenian Genocide prohibited taking pictures and closely watched anyone suspected of owning a camera. Despite the threat of a court martial, several German civilians and other German military officials assigned to the Ottoman Empire during the war disregarded the ban and secretly photographed the mistreatment of the Armenian population.
The exhibit is the product of years of research in European archives. Many of the photographs in the exhibit were uncovered for the first time after decades of neglect. The photographs showing Armenian deportees are matched with diary entries, reports, and memoirs of the photographers and so doing documenting their authenticity.