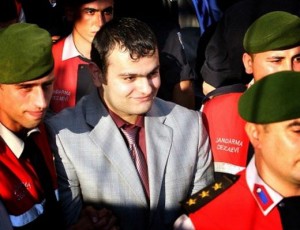 ISTANBUL. – Ogun Samast, the murderer of Hrant Dink has sent a 25-page letter from prison to the Taraf daily of Turkey, and informed that he is writing a book about the dark pages of the murder, claiming to possess information about a third person involved in the crime and regrets having become what he described as a victim of media propaganda.
Samast noted that the book will present the developments with respect to Dink's killing, and stressed that he is planning on publishing this book in 4-5 months.
"Where are those people who put me on this ship and took advantage of my lack of knowledge, and as a result I committed a crime? I told you first that three months prior to the murder I met with someone who played a part in organizing Dink's killing. I will write about him in the book," Samast wrote to Taraf daily, and added that he has 21-percent guilt in Hrant Dink's murder, but he is paying for the 100 percent.
"I said in all my testimonies that when I saw Dink first, I felt sorry for him. I didn't want to kill him, but then, I remembered certain things. I cannot disclose them now, but I will speak out when the time comes," Samast said.
"I committed an error, and I am now answering for it by spending my youth in prison," he added.