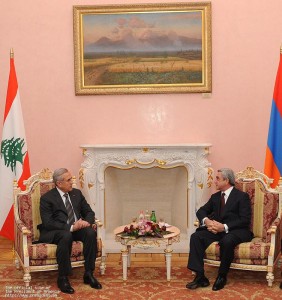 YEREVAN — The President of Lebanon Michel Suleiman arrived in Yerevan on Wednesday for an official 3-day accompanied by his Wafaa Suleiman and government officials.
On Friday morning, President Suleiman visited the Tsitsernakaber Memorial and paid tribute to the memory of the victims of the Armenian Genocide, laid a wreath at the monument and planted a tree at the Alley of Memory.
Earlier, Suleiman was received by an official welcoming ceremony at the Presidential Palace, where the two leaders of Lebanon and Armenia held a tête-à-tête meeting, which was followed by the negotiations of the delegations in the extended format.
Welcoming the President of Lebanon, Serzh Sarkisian noted that traditional friendly ties of the two peoples require further deepening of bilateral relations.
"I held a lengthy discussion with President Serzh Sarkisian and we discussed the means to strengthen the relations between our countries and our people in different areas," said Suleiman during a joint news conference with Sarkisian, who presented Suleiman with the country's Medal of Honor.
"We also discussed the current regional and international developments," Suleiman added.
Speaking at the conference, Suleiman reiterated Lebanon's full support for stability in Armenia and the South Caucus region,.
"I also reiterated to President Sarkisian that on the 20th anniversary of Armenia's independence, Lebanon would continue to stand by Armenia and would support finding diplomatic solutions to conflicts that persist with some of its neighbors … especially the ongoing conflict over Nagorno-Karabakh," said Suleiman.
In his remarks during the joint press conference, Sarkisian strongly criticized Azerbaijan on Friday for mobilizing Muslim countries to support its position on the Nagorno-Karabakh conflict.
"I pointed out that Azerbaijan is stubbornly trying to present the conflict in the light of religious disagreements within the framework of Islamic countries," he said . "I think that in case of more or less knowing the history of the Armenian people and the cause of the [Karabakh] conflict it's impossible to trust in such an approach."
"Nevertheless, we find that approach extremely dangerous because there are also circles unfamiliar with those details and such anti-Armenian propaganda may not end up without consequences," Sarkisian told the joint news conference.
Sarkisian appeared to refer to pro-Azerbaijani statements repeatedly issued by Organization of Islamic Cooperation (OIC) that unites 57 countries with predominantly Muslim populations, including Lebanon. Many of them also voted in 2008 for a UN General Assembly resolution that demanded the "immediate, complete and unconditional withdrawal of Armenian forces" from occupied Azerbaijani lands.
The Karabakh dispute is also the reason why at least two of those countries, Saudi Arabia and Pakistan, refuse to even recognize Armenia as an independent state.