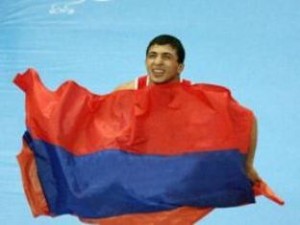 YEREVAN — European Greco-Roman wrestling champion Roman Amoyan was selected as Armenia's 2011 athlete of the year. Armenia's chess team was selected as the best Armenian team of 2011.
Amoyan, 28, won a gold medal in his 55-kg weight category at European championships in Germany in April. He is considered to be one of Armenia's medal hopefuls at next summer's Olympics in London. (he won a bronze medal at the Olympic Games in Beijing, China, in 2008).
"The trainers told me this [Tuesday] morning that I was recognized athlete of the year. I was very happy because I am receiving such an honor for the first time. I was among the top ten athletes for the past ten years, but you feel altogether differently when you are recognized as the best. I thank the sports journalists, who have selected me this year as Armenia's top athlete. I also want to thank all of my coaches and trainers. Being the top athlete is a very huge responsibility. [And] In 2012, I will endeavor to repeat this year's accomplishment, to again capture the European champion's title, and also to qualify for the Olympics," Roman Amoyan stated.
The year's top ten athletes were selected as a result of a survey conducted by the Armenian National Federation of Sports Journalists, with 42 sports writers taking part in the polls.
Among the top ten athletes of Armenia are also three other wresters (Arsen Julfalakyan, Artur Aleksanyan and Musa Murtazaliev), two footballers (Henrikh Mkhitaryan and Yura Movsisyan), one chess grandmaster (Levon Aronian), one weightlifter (Aghasi Aghasyan), one gymnast (Harutyun Merdinyan) and one boxer (Vladimir Sarukhanyan).
Armenia's chess team (including GMs Levon Aronian, Sergei Movsesian, Vladimir Akopian, Gabriel Sargissian and Robert Hovhannisyan) became world champions at the competition of ten nations in China in July.