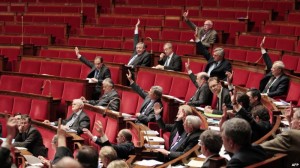 Turkey Recalls Ambassador from Paris
PARIS — France's lower house of parliament passed a bill making it a crime to deny the Armenian genocide.
The motion was backed in a voice vote and now moves to the Senate which hasn't set a timetable to debate it.
The vote followed a four-hour debate broadcast live through the Internet and watched by members of France's influential Armenian community as well as thousands of Turks demonstrating outside the parliament.
Under the adopted legislation, anyone in France publicly denying the Armenian Genocide could face a year in jail and a fine of 45,000 euros ($58,000).
The main author of the bill, UMP deputy Valerie Boyer, dismissed critics' claims that it will infringe on freedom of expression and discourage debate on one of the darkest episodes of Turkey's history.
"Freedom of speech and state propaganda are very different things," Boyer said in an apparent reference to successive Turkish governments' vehement genocide denial.
Another UMP parliamentarian, Patrice Calmejane, drew parallels between criminalizing public denial of the Jewish Holocaust and the Armenian genocide. "Recognition of the Shoah has not prevented historians from doing their job," he said.
The law would punish denial of any genocide recognized by French law with as long as a year in prison and a 45,000-euro ($59,000) fine. The measure, presented by a member of President Nicolas Sarkozy's party, has been rewritten to remove direct references to Turkey and Armenians. The French parliament voted in 2001 to recognize the World War I massacres of Armenians as genocide. In 2006, the lower house voted to criminalize its denial, though the bill later failed in the Senate.
Almost all the lawmakers who spoke in the debate mentioned the wartime killings of Armenians and criticized Turkey. A member of Sarkozy's Union for a Popular Movement Renaud Muselier, who represented the party in the debate; stated that it Is not aimed at Turkey but rather the motion "is a law that allows us to fight denial."
Turkey Recalls Ambassador
Turkey responded to the unprecedented measure by recalling its ambassador in Paris and imposing a raft of political and military sanctions on France. Turkish Prime Minister Recep Tayyip Erdogan said the bill's passage will open "very grave and irreparable wounds" in Turkish-French relations. "From now on we are revising our relations with France," he said.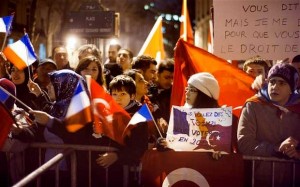 The AFP news agency also quoted Erdogan as saying that Ankara will suspend mutual political visits as well as joint military projects with its NATO ally. Turkey will now decide on a case-by-case on every military demand made by EU member France to use Turkish airspace and military bases, he said, and will from now on reject any French demand for its military vessels to dock at Turkish ports.
"France has trampled on the principles of its own revolution: Liberty, equality and fraternity," Erdogan declared, according to the DPA news agency. "I ask you: Is there freedom of thought and freedom of expression in France? The answer is, 'No.' France has abolished the spirit of free discussion," he charged.
Earlier, about 3,000 French nationals of Turkish origin demonstrated there peacefully ahead of the vote on a day that also marks 32 years since a Turkish diplomat was assassinated by Armenian militants in central Paris.