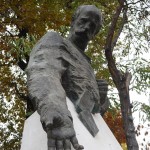 YEREVAN — President Serzh Sargsyan participated today in the ceremony of unveiling of Fridtjof Nansen's statue in the c enter of Yerevan within the framework of the events dedicated to the 150th birth anniversary of the explorer, scientist, diplomat, humanitarian and Nobel Peace Prize laureate and a great friend of the Armenian nation.
The opening ceremony was attended also by the Foreign Minister of the Kingdom of Norway, Jonas Gahr Støre, and Nansen's granddaughter Marit Greve.
"Today, in the center of our capital, I would say in the heart of Yerevan, we are unveiling the statue of Fridtjof Nansen, one of the greatest friends of the Armenian people. Indeed, it is in the heart of Yerevan as a testimony to the extent the Armenian people cherish in their hearts the memory of their venerable friends," Armenian Foreign Minister Edward Nalbandian said, speaking at the ceremony.
"This statue adds to the several schools, streets, orphanages and hospitals bearing the name of Nansen, scattered across Armenia – in Yerevan, Spitak, Gyumri, Vanadzor and elsewhere – signifying the warmth and reverence of the Armenian people towards the fond memory and name of Nansen," he said.
"Rendering assistance during the most difficult period for the Armenian people, Nansen saved not only hundreds of thousands of Armenians, but also our nation's shaken belief that the human being was created in God's likeness, that inside a human being the goodness can not be overtaken by evil. Is there any greater mission than saving a belief, a belief towards the human nature, a belief not only towards one's own future, but also towards the future of humankind, a belief that April 24 will be followed by April 25?" Minister Nalbandian stated.
Edward Nalbandian expressed gratitude to Mrs. Marit Greve, granddaughter of Fridtjof Nansen, for making a long journey all the way from Norway to participate at this remarkable event. He thanked also the Minister of Foreign Affairs of Norway, who is on official visit to Yerevan.
Following the opening ceremony President Serzh Sargsyan handed a passport of special residence in Armenia to Mrs. Greve. On behalf of the Armenian people, the President expressed gratitude for Fridtjof Nansen's activity, noting that thousand of Armenians once had the chance to find their place in the world thanks to similar passports.