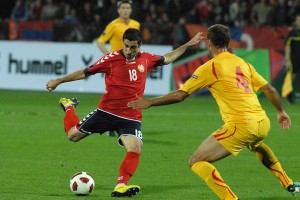 By Khachik Chakhoyan
UEFA News
YEREVAN — Armenia will take on the Republic of Ireland for a top-two finish in UEFA EURO 2012 Group B on Tuesday after a confident victory against the Former Yugoslav Republic of Macedonia in Yerevan.
Marcos Pizzelli and Henrik Mkhitaryan thrust Vardan Minasyan's side into a two-goal lead before the break. Following Macedonia captain Velice Sumulikoski's dismissal eight minutes into the second half for a second booking, Gevorg Ghazaryan made it 3-0 and although Vance Sikov struck for the visitors, Artur Sarkisov had the last word in added time.
Initially nervous as they sought the win they needed to keep their qualifying hopes alive, Armenia soon warmed to their task, Yura Movsisyan hitting the post after nine minutes. After Filip Ivanovski had passed up a presentable chance at the other end, Armenia made the breakthrough after 28 minutes as Movsisyan beat three men before laying the ball off for Pizzelli to finish from inside the box.
Mkhitaryan then produced a splendid left-footed effort from 20 metres out to make it 2-0, but Macedonia did not give up, and might have reduced the arrears significantly before the break; Ivan Trickovski hit one effort over the bar from a decent position and Armenia goalkeeper Roman Berezovsky had to have his wits about him to field Nikolce Noveski's shot from distance.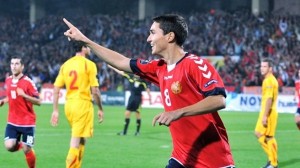 Mkhitaryan and Ivanovski had decent opportunities at either end after the interval, but Sumulikoski's red card tilted the tie further in the home side's favour. It took a splendid Martin Bogatinov save to deny FC Shakhtar Donetsk playmaker Mkhitaryan his second of the night a few minutes later, but the goalkeeper could do nothing about Ghazaryan's low shot into the corner on 69 minutes after Movsisyan picked him out.
Sikov's header from Vlade Lazarevski's corner appeared to have reduced the deficit for FYROM, but – for the second game in a row – Sarkisov scored Armenia's fourth goal, with man of the match Movsisyan once more the provider. In other group matches, Russia' beat Slovakia 1-0 to stay on top and Ireland beat Andora 2-0