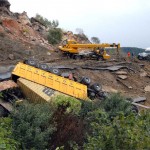 YEREVAN — Five people remained missing in northern Armenia on Monday one day after a massive landslide swept away a section of a major highway and buried dozens of cars trapped there.
The 200-meter section close to the Armenian-Georgian border was submerged by a wall of rock and mud late on Sunday. Seven people were injured and taken to a hospital in the nearby town of Alaverdi.
Rescue teams sent by the Armenian Ministry of Emergency Situations worked through the night but did not find any of the five missing people, two of them Georgian citizens, as of Monday evening.
As reported by the press service of the Emergency Situations of Armenia on October 2, at 7 pm, in the 83rd kilometer of Vanadzor-Bagratashen section of M6 interstate highway, near the bridge of Ayrum railway station (in Ltchkadzor village section) portions of a hill about 130 by 60 meters fell onto the highway and completely blocked it.
Eyewitnesses told RFE/RL's Armenian service (Azatutyun.am) that the landslide occurred shortly after a traffic jam caused at the road section by a truck crash. Officials from the Ministry of Emergency Situations suggested that the congestion and resulting vibrations set off the calamity.
According to Emergency Situations Minister Armen Yeritsian, as many as 35 vehicles were buried in the landslide.
"This is a landslide-prone area registered by the Ministry of Emergency Situations," Yeritsian told journalists. "So is about 15 percent of Armenia's territory."
The remark contradicted what the head of the ministry branch in Armenia's northern Tavush region, Vaghinak Hovsepian, told RFE/RL's Armenian service on Sunday. Hovsepian said the highway running through the Debed river gorge is not prone to landslides.
The same highway section was already hit by a smaller landslide on Friday following a heavy rainfall. It was reopened to traffic several hours later.
Officials said that the highway, which serves as the main transport link between Armenia and Georgia, will remain closed at least until Wednesday.