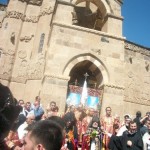 VAN — Thousands of Armenians from Turkey and the diaspora gathered for a mass in the 10th-century Surp Khach (Holy Cross) church at the Akhtamar Island on Lake Van. It was the second mass held in the Church since it was renovated in 2005-2007 and turned into a museum. A first mass was held there last year.
Turkish television reports said boat shuttles ferried the pilgrims, most of them from Turkey but some from Armenia and Europe, to Akdamar.
A new lakeside pier was built this year to accommodate the faithful, local authorities said.
The AFP news agency reported that Archbishop Aram Ateshian, the interim spiritual leader of Turkey's Armenian community, chaired the ceremony this year. The Anatolia news agency quoted Ateshian as saying that only 60 percent of around 3,000 people who arrived on the island were able to enter the church. The others heard the mass outside through loudspeakers.
According to the Turkish Tourism Ministry, nearly 30,000 tourists flocked to the Akhtamar church last year.
Built between 915 and 921, the Akhtamar church is one of the few surviving examples of the ancient Armenian civilization in what is now eastern Turkey. Hundreds of Armenian churches built there since the early Middle Ages were destroyed, ransacked or turned into mosques during and after 1915 Armenian Genocide in the Ottoman Empire.