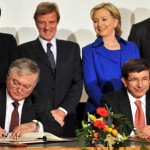 ANKARA. – Turkey's parliament recognized the protocols signed by Foreign Ministers of Armenia and Turkey, Edward Nalbandian and Ahmet Davutoglu, in Zurich in October 10, 2009 as expired, reports Turkish Merhaba Gazetesi.
According to domestic statute of the Turkish parliament, bills not finally adopted during a legislative period (which lasts 4 years) are repealed. Therefore, the protocols were withdrawn from the agenda. However, the legislation provides the possibility of restoring the bill on the agenda on behalf of the government or MPs, reports Anadolu agency.
After the protocols were signed by the FMs they were sent to the parliaments of both countries. On April 22, 2010, Armenian President Serzh Sarkisian announced the suspension of the ratification process, stating that the Turkish side is not ready to continue dialogue with Yerevan without preconditions, as mandated by the protocols. At the same time the president noted that Armenia will retain its signature on the documents in order to preserve the possibility of rapprochement.
According to Pirus Haber, the new Turkish parliament considers that the issue of opening of border with Armenia is no longer tangible for the country's political course.