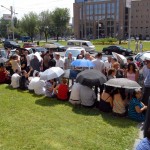 YEREVAN — Owners of kiosks across Yerevan selling food, cigarettes and other goods continued to demonstrate on Monday against the closure of their small businesses which was ordered by Mayor Karen Karapetian earlier this year.
More than a hundred of them gathered outside the mayor's office to protest against what they see as an illegal and unfair decision that will leave them without a source of income.
Karapetian made the decision following an equally controversial ban on street trade that was imposed by him in January. The ban affected between 3,000 and 10,000 people eking out a modest living in the Armenian capital.
The closure of kiosks began about three months ago and appears to have gained more momentum last week, with scores of owners receiving written notices informing them that their properties will be dismantled in the next three days. Some of them vowed to resist the enforcement of the ban, while others began daily demonstrations outside the municipal administration on Friday.
A spokeswoman for Karapetian, Shushan Sardarian, told RFE/RL's Armenian service that some 1,200 small shops have already been dismantled to date. Sardarian could not give the total number of kiosks that are due be shut down. It is likely to be in the thousands.
The Yerevan municipality says Karapetian's decision applies to those kiosks that operate without valid government licenses or are located on major streets in and outside the city center.
According to Sardarian, the municipal authorities are ready to sign "mutually acceptable" agreements with the owners of kiosks falling into the latter category. "That means that they will probably be offered other locations [for selling things,]" she said.
The protesters dismissed these explanations. "We have one-year contracts with suppliers [of goods,] and we have borrowed loans from banks," one of them told RFE/RL's Armenian service.
Many of the protesters also claimed to have recently purchased government licenses allowing them to sell tobacco and alcohol and paid other taxes in advance. "I received a license just a few days ago," complained one woman. "Why didn't they tell me about this?"
"A supermarket and a 4 square-meter kiosk pay the same amount of money for the license," explained another kiosk owner. "That's 245,000 drams ($668) a year."
Armenia's leading opposition forces have condemned both the kiosk closures and the earlier ban on street trade.