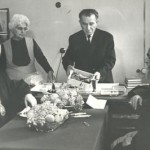 Sevan Deyirmenjian has written an opinion piece for the Istanbul Armenian newspaper Jamanak in which he calls for a final resolution to the question – what to do with the skull bones of 19th century writer Bedros Tourian?
The bones have been kept in a locked box at the Charents Museum of Literature and Art, seemingly forgotten for 42 years.
In his article "The voyage of Tourian's skull; from Skudar to Yerevan", Deyirmenjian refers to the a Hetq.am article that raised the issue of what will become of the noted Armenian writer's remains. (The Skull of Bedros Tourian Remains Unburied for 42 Years)
Bedros Tourian died in 1872, at the age of twenty, from consumption. He was buried in the Armenian Cemetery of Skudar in Istanbul.
In the late 1960s, the Istanbul Municipality decided to build a road right through then cemetery and the problem of relocating the burial sites cam up. The Armenian Patriarch of Istanbul Archbishop Shnork Kaloustian took the bold step to secretly remove the poet's skull. Hiding it under a cassock, Patriarch Kaloustian brought the bones to Etchmiadzin, presenting them to Catholicos Vazgen I. In 1969, Catholicos Vazgen handed them over to the museum for safekeeping. They've been there ever since.
Deyirmenjian refers to another article on the subject that appeared in the periodical "Koulis" by Stepan Voskian, who was a prominent community figure in Istanbul.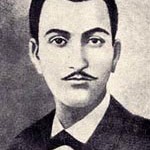 Voskian gives a detailed description of how Tourian's skull was secretly removed from the dug up grave in 1959 by then Armenian Patriarch of Constantinople Archbishop Karekin Khachatourian for eventual transfer to the Holy Cross Seminary's library.
The bones were placed in a box but they never made it to the library.
In 1961, with the passing of Archbishop Karekin, Archbishop Shnork Kaloustian becomes the new Istanbul Patriarch.
Tourian's skull might have been lost forever had it not been for Vartkes Der-Haroutyunyan, a photographer and journalist from Tehran, who was writing a series on Tourian had visited Istanbul.
He asked the newly elected Patriarch, Archbishop Shnork Kaloustian, for permission to photograph the skull.
Voskian writes that Patriarch Kaloustian had no knowledge that the skull of the famous writer even existed. After obtaining the facts on the matter, the patriarch allowed the skull to be photographed.
As we now know, the skull remains were then secretly transferred to Armenia and presented to Catholicos Vazgen I.
They were then relocated to the Literature Museum where they have remained ever since.
Deyirmenjian writes, "The road from the Skudar Cemetery to a museum on Aram Street in Yerevan is unimaginably long for a skull that contained the brains of someone who lived in the 19th century."
He notes that it would be fitting to come up with a fitting end to this odyssey especially since 2012 will mark the 160th anniversary of Bedros Tourian.