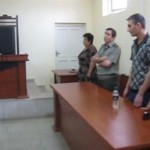 STEPANAKERT — An Armenian soldier was sentenced to life imprisonment on Wednesday for killing four fellow servicemen and wounding three others at a military base in Nagorno-Karabakh last November.
A court in Stepanakert found Manvel Hazroyan guilty of multiple murder and breach of combat duty at the end of a trial during which he admitted to the charges.
According to the official theory of the November 19 incident confirmed by Hazroyan, the 20-year-old conscript went on a shooting spree after he felt that he was gravely offended by one of his victims.
The latter is said to have shouted abuse after discovering that his music player earphones used by other soldiers from his unit are broken. Hazroyan, who was arrested immediately after the shootings, told prosecutors and the court that he thought the insult was addressed to him.
Despite pleading guilty, the defendant reacted furiously to the announcement of the verdict, swearing and hurling a plastic bottle at the presiding judge, Hamlet Davtian. He said he should have been given a milder prison sentence.
Hazroyan was immediately overpowered and hit by security officers present in the courtroom. His defense lawyer, Edmond Marukian, was manhandled by one of the officers after telling them to stop the violence.
Speaking to RFE/RL's Armenian service afterwards, Marukian criticized the trial and the investigation that preceded it as flawed. He said investigators failed to fully clarify "the motives for the crime."
"The motives suggested now either do not correspond to reality or, if they do, Manvel Hazroyan is mentally ill," Marukian said, complaining that the court rejected his demand to subject his client to psychiatric and psychological examination.
The lawyer also said that army conscripts should not be sentenced to life in prison in principle, because of their young age. "And just sentencing them without identifying the root causes of crimes committed by them and understanding that they are the result of the situation in the army is not a solution to the problem," he added.
The Karabakh Armenian army was hit by a similar deadly incident in August 2010. It left one officer and five soldiers dead. Military investigators said one of those soldiers gunned down the others before taking his own life.
The shock shootings were grim reminders of chronic abuses in the closely integrated armed forces of Armenia and Karabakh. The problem has had a greater public resonance in the past year, leading military authorities in Yerevan and Stepanakert to promise a tougher crackdown on violent army crime.
Dozens of military personnel have been arrested, fired or demoted since August 2010. Still, human rights groups and families of dead soldiers continue to assert that the military authorities are not doing enough to tackle the problem and are even covering up murders.