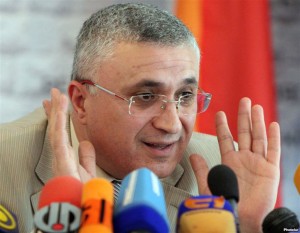 YEREVAN — Armenia's newly appointed Central Election Commission has held its first meeting and reelected its controversial former chairman, RFE/RL's Armenian Service reports.
Garegin Azarian, who headed the previous commission that was disbanded this week in accordance with the recently amended Electoral Code, will also be the chairman of the new commission.
One of the changes in the code introduces a new mechanism for the formation of the country's top election body. Its seven members must now be nominated by the human rights ombudsman, the Court of Cassation, and the Armenian bar association and appointed by the country's president.
President Serzh Sarkisian formally approved the candidacies proposed by the three institutions late on July 13. All of them are believed to be loyal to Sarkisian's administration, which will fuel opposition skepticism about Sarkisian's pledges to ensure free and fair national elections.
Azarian's reelection as Central Election Commission chairman for a seven-year term will only deepen opposition concerns. Azarian administered the last presidential election, which was marred by opposition allegations of serious fraud and ended in deadly street unrest in Yerevan.
Two other newly appointed members of the commission ran one of the country's 10 electoral districts during that vote.
The nomination of some of the new commission members has also sparked controversy. Ombudsman Karen Andreasian had pledged to fill the three commission seats reserved for his office on a competitive basis.
But it emerged afterward that two winners of that supposed competition are former and current employees of a law firm that Andreasian managed before becoming ombudsman early this year.
The female nominees, aged 23 and 25, withdrew their candidacies on July 11 amid media allegations of favoritism by Andreasian.
Vladimir Karapetian, a representative of Armenia's main opposition Armenian National Congress, was skeptical of the new CEC.
"Now the authorities and the [ruling] Republican Party appoint the same head and thereby an evaluation is being made of the rigged election of 2008 and a message is being sent to the people as to what kind of elections the authorities are going to implement," Karapetian told RFE/RL on July 14.