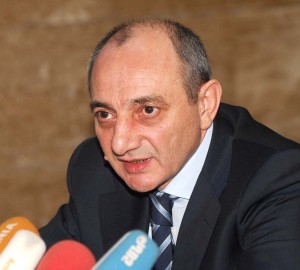 STEPANAKERT — Nagorno-Karabakh's President Bako Sahakian heaped praise on international mediators on Tuesday, saying that they are committed to brokering a just solution to the Karabakh conflict and will do more to prevent another Armenian-Azerbaijani war.
In an interview with RFE/RL's Armenian service, Sahakian said at the same time that the Karabakh Armenian military is ready to face a possible Azerbaijani attempt to forcibly win back the territory. He also reiterated that no peace agreements signed by Armenia and Azerbaijan can be put into practice without being approved by the Nagorno-Karabakh Republic.
"We are deeply convinced that the mediating countries — France, the United States and Russia — are sincere in their intentions," he said. "During all these years we have grown convinced that the international community and especially the Minsk Group co-chairs strive to maintain this relative peace and achieve a final peaceful solution."
"This relative peace is much more preferable than any military hostilities, and I think that the co-chairs will continue their efforts and will carry out some additional work to maintain this situation," added Sahakian.
Speaking in his office in Stepanakert, Sahakian would not be drawn on whether he thinks an Armenian-Azerbaijani peace accord can be reached anytime soon. He said only that the peace process will remain deadlocked as long as Azerbaijan demonstrates a "non-constructive position" and threatens to end the dispute by force.
"We are concerned and the international community should also be concerned," he said, referring to bellicose statements regularly made by Aliyev and other Azerbaijani officials.
"Given that [Azerbaijani] policy, we are obliged to take into account and not rule out the possibility that Azerbaijan will one day switch from words to action," continued the Karabakh leader. "Therefore, we are organizing our work on the basis of that reality."
Asked whether the NKR's leadership and armed forces are prepared for renewed fighting, he said, "Of course. And there is nothing extraordinary about that. While being deeply convinced that this problem must be solved peacefully, we are obliged, given our neighbor's behavior and statements, to ensure the security of our country, to make sure that our people get on with their lives in these relatively peaceful conditions."
The blueprint for peace favored by the three mediating powers represented in Minsk Group, calls for a gradual Armenian withdrawal from formerly Azerbaijani-populated districts around Karabakh. In return, Karabakh's predominantly Armenian population would be able to determine the region's internationally recognized status in a future referendum.
Many Karabakh Armenians are unhappy with this formula, saying that it requires disproportionate concessions to Azerbaijan. Some officials in Stepanakert have also voiced reservations about it.
Sahakian declined to pass judgment on the mediators' current peace proposals. "Right now we are far from the decision-making phase," he told RFE/RL.
"Armenia's leadership has repeatedly stated that those basic principles can serve as a basis for negotiations," he added. "Therefore, we too welcome that. Any proposal that can serve as a basis for negotiations cannot be unacceptable for Artsakh (Nagorno-Karabakh)."
Sahakian stressed that the NKR must be directly involved and have a final say in those negotiations. "While welcoming Azerbaijan's and Armenia's participation in negotiations and expressing our gratitude to Armenia, we always add that within that [existing] framework it's impossible to reach an agreement because the Artsakh Republic must also be involved in those discussions," he said.
Sahakian claimed that the mediators agree with that. "At the moment we have a certain satisfaction with the fact that the Minsk Group co-chairs point out in their statements that a final solution is impossible without the participation of the Artsakh Republic," he said.