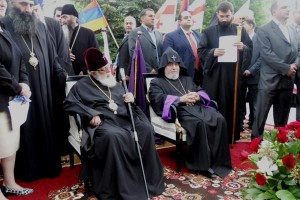 TBILISI — The spiritual leaders of Armenia and Georgia have failed to reach any concrete agreements on disputes between their state-backed churches after nearly one week of negotiations held during Catholicos Karekin II's visit to Georgia.
The supreme head of the Armenian Apostolic Church and Catholicos-Patriarch Ilia II of the Georgian Orthodox Church publicly disagreed on the main sticking points as they wrapped up the talks late on Wednesday.
Catholicos Karekin II had hoped to convince Georgia's political and religious leadership to grant an official status to the Georgia Diocese of the Armenian Church and return several churches in and outside Tbilisi to the latter.
After Karekin II's weekend meeting with Georgian President Mikheil Saakashvili it was reported that Georgian side agreed to register the diocese and pledged to preserve the churches "until their return to the diocese."
However, no agreements or joint declarations were signed as a result.
"No text has ever been signed between the churches, moreover a text containing unacceptable formulations. It's unclear who disseminated such reports and why they appeared in the information field," Mediamax news agency quoted Father Vahram Melikian, the head of the information center of the Mother See of Holy Echmiadzinas, saying.
Speaking to journalists in Georgia's Javakheti region mostly populated by ethnic Armenians, the two pontiffs said they failed to work out a mutually acceptable document. "I think that we are saying the same things but with different wordings," said Patriarch Ilia II.
He insisted that the Armenian Church should gain official recognition in Georgia only if the Georgian Church is granted the same status in Armenia. Catholicos Karekin II countered that Armenia's small ethnic Georgian community, numbering less than 1,000 people, never applied for such a status. He argued that Armenian law provides for the easy registration of religious minorities.
Contradicting Saakashvili's assurances reportedly given to Catholicos Karekin II, Ilia II also stated that "Armenian churches will be repaired in case of the restoration of Georgian churches in Armenia." "If Georgia restores Armenian churches, then Armenia must repair and preserve Georgian churches as well," he said.
The elderly patriarch referred to several medieval and mostly abandoned churches located in Armenia's northern Lori province.