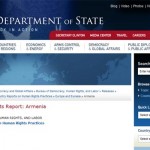 Little Progress, Numerous Violations, Major Flaws in Electoral Rights
WASHINGTON, DC — The United States has again criticized the Armenian authorities' human rights record, saying that they continue to restrict citizens' right to change their government, put pressure on courts and tolerate police abuses.
In its annual human rights report released late Friday, the U.S. State Department stood by its view that Armenia's 2008 presidential election was "significantly flawed." It also spoke of "apparent political motivations" behind the mass arrests of opposition members following the disputed vote.
"Citizens' right to change their government through peaceful elections was restricted due to repeated, significant flaws in the conduct of elections, including a by-election for a parliamentary seat in January [2010,]" reads the report. "Some members of the security forces continued to commit human rights abuses with impunity while under the direction of civilian leadership."
"Police reportedly beat citizens during arrest and interrogation," it says, adding that Armenian law-enforcement bodies continued to arrest people "without reasonable suspicion."
Some of those people were taken into custody "due to their opposition political affiliations or political activities," according to the report.
The State Department noted that four opposition members were released from jail in 2010. They were among more than a hundred loyalists of opposition leaders Levon Ter-Petrosian arrested in the wake of the 2008 election.
"The arrests and trials of most or all of the incarcerated individuals appeared politically influenced to varying degrees," says the report.
The extensive report also accuses the Armenian authorities of "arbitrarily" limiting freedom of assembly and deplores what it calls a lack of "objective reporting" by the Armenian broadcast media. "Incidents of violence, intimidation, and self-censorship against and in the press continued," it adds.
Referring to the death cases in army, the State Department states that suspicious deaths occurred in the military under noncombat conditions, which took place in the background of persecuting and humiliating subordinates and fellow soldiers by their officers and conscripts.
"The military prosecutor reported that during the year 54 military servicemen died under noncombat conditions, an increase from 44 in 2009. According to official statistics, 11 were killed by enemy fire; of the remaining cases, 13 were murders; eight deaths were due to illnesses; six deaths were caused by car accidents; five deaths by accidents; four deaths were due to mishandling of weapons; three were suicides; three were induced suicides; and one was due to physical violence," the report says.
Armenian human rights activists on Monday welcomed and endorsed the findings of the report. "The U.S. Embassy in Armenia is probably the only foreign embassy here that seriously monitors the situation with human rights, judicial independence, freedom of assembly and press, political prisoners," said Mikael Danielian of the Armenian Helsinki Association.